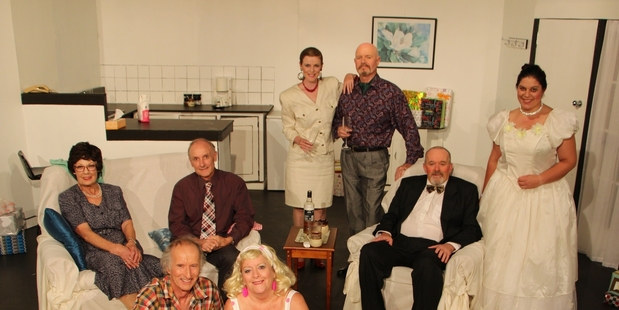 The newly-refurbished Repertory House provides the perfect intimate setting for the Hawera Repertory Society's newest production Duets, written by Peter Quilter.
Audiences are invited into the lives of eight characters in significantly meaningful moments in their relationships, providing a great night's entertainment.
Richard Kennedy-Moffat and Jane Lawrence open the show playing Johnathan and Wendy, unlucky in love singles on a blind date. The pair do a fantastic job of portraying the awkward and often cringe-worthy moments of a first date. Barrie, played by Graham Fraser, and Janet, played by Hollie Weir, express their views on true love and marriage. In a hilariously awkward scenario, the pair's well-timed and effortlessly delivered lines will have the audience in fits of laugher.
From the beginning of relationships to the end of one, the audience is taken to Spain with Shelley, played by Carole Hosie, and Bobby, Clive Cullen as they finalise their divorce. Carole gives a literally staggering performance as Shelley drunkenly stumbles throughout the scene while Bobby tries to breach the idea of dividing up the spoils.
The scene is filled with some lovely understated comedy and is wonderfully performed by the duo.
The production ends on a high note with bride-to-be Angela, played by Ainslie Alexander, and her brother Toby played by Mike Brotherson.
The pair both seem at ease on the stage as they deliver the hilarious performance effortlessly. Add in a parachute-style wedding gown and some mistimed rain and the audience is in for side-splitting laughter.
Director Samantha Turner has put together a wonderful show that can be enjoyed by audiences of all ages.
'Duets' is running from April 15-23 at the Repertory House, Collins Street, Hawera. Tickets are available from the iSite in Hawera. For more information check out www.hawerarep.org