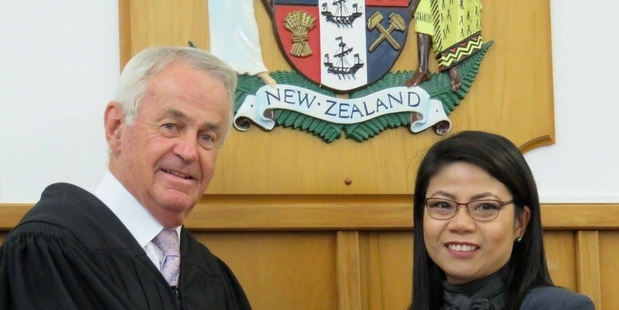 The Hawera District Court was filled last Tuesday afternoon as friends and family of Maria Cashmore came to witness her being sworn in as a Justice of the Peace (JP).
"Judge Roberts joked that I must have rented the crowd because he had never seen so many supporters," says Maria.
Maria, who works as a planner for the South Taranaki District Council, says she was delighted when she was notified last year that she had been nominated for the role of a JP.
"I was nominated for community work I have been involved in, such as fundraising for local and international organisations."
While she was excited about the role, Maria says it is a long process to become a Justice of the Peace. This includes having your application supported by two community groups as well as a local MP, followed by training and assessment.
Maria says now that she has been sworn in she is eager to get to work.
"I have already had people book in for me to witness their documents which is great to see that the community already have trust in me in this role."
As many of the documents witnessed by JPs are private she is pleased that people already feel comfortable to come to her.
As the Filipino population in Taranaki grows, Maria says she is also very honoured to be the first Justice of the Peace in South Taranaki representing the Filipino community.
Looking to the future, Maria says there are two paths a JP can take. Witnessing documents and declarations is more administrative and can also involve training to become a wedding celebrant. Maria says she is more inclined to follow the judicial side.
"It involves further training allowing me to preside in the district court over various hearings. I think my background in planning will pair well with this."