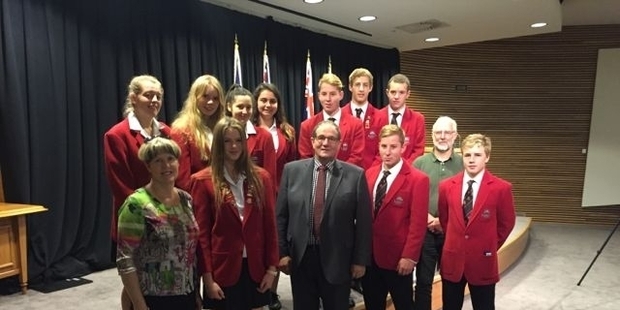 When Year 13 Stratford High School students visited Wellington earlier this month, they met up with local MP Chester Borrows who took them into the Beehive Theatrette where the Prime Minister holds his weekly post-cabinet press conferences.
Mr Borrows held a question and answer session with the students and reminded them that although they were not yet quite of voting age, they could still approach him as their local MP on issues which affect their lives and their futures.
The students were particularly well received by Treasury Officials, who were impressed that young people born around 1998 or 1999 could have such a good understanding of the issues the government faces with spending issues.
In the question and answer session, discussion around the recent flag debate led to the group talking about the process of democracy, the historical context of previous military involvement and even membership of the British Commonwealth.
The students were challenged by their MP to consider whether a referendum on any current issue had a place in the Government's time and cost priorities.
Pictured is MP Chester Borrows with Stratford High School students in Parliament's Beehive Theatrette with teacher Raewyn Lightoller and bus driver Garth Worthington.