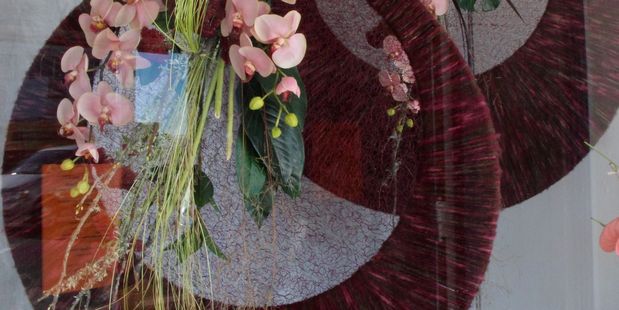 Floral art is a lot like fashion. Trends and designs come in and out of style, says Margaret Vickers of the Stratford Floral Art Group.
Margaret and other members of the group have come together to create designs that are on display in the empty shop next to Scratching Post on Broadway.
"It is catching a lot of people's attention. It's nice to see something bright and fresh in an empty shop window," says Margaret.
The flower arrangements have been created for the window of the Broadway shop front to advertise the upcoming New Zealand Floral Art Society AGM.
Margaret says the national meeting is being held at the Devon Hotel in New Plymouth and will include workshops by international artists.
"Several of the Stratford members are attending the workshops. There is a lot to be learned from these designers."
Another highlight of the national meeting is the two exhibitions, National Designer of the Year and Styles of Design says Stratford Floral Art Group member Glenys Campbell.
"The exhibitions are open to members of the public and the National Designer of the Year exhibition features pieces from artists all over New Zealand."
Glenys says the exhibitions will display a real range of styles and designs.
The Stratford Floral Art group meets every third Monday of the month at the Skinner Road Hall from 11am. The group is open to anyone interested in floral art, beginner or expert says Glenys.
The National Designer of the Year exhibition will be at the Plymouth Hotel, Thursday, April 7, 11am-5pm and Friday, April 8, 9am-3.45pm. Entry $5. The Styles of Design exhibition will be is at the J D Reid Gallery, 33a Devon Street West, New Plymouth on Wednesday, April 6, 1pm-4pm and Thursday, April 7, 10am-4pm. Entry $2.