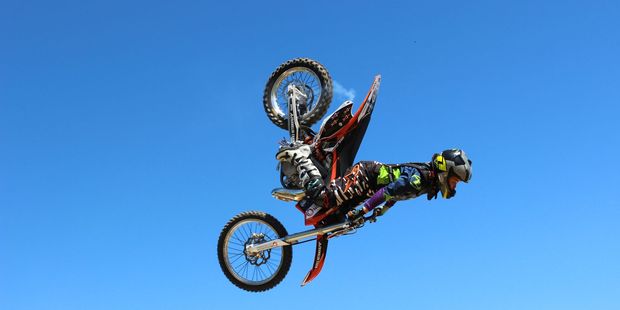 "It's such a rush, everything happens in slow motion and I am so alert to every move I make," says Carlos Hanlon describing the feeling of back flipping on a motorbike.
In February the 13-year-old Inglewood High School student became the youngest New Zealander to land a back flip on a motorbike, something that Carlos says has been his goal for years.
Carlos says he first got on a motorbike at only three years old, "and it's a joy that's never stopped for me".
Growing up Carlos says he has always been inspired by the antics of free style motor cross group Nitro Circus.
"I met Travis Pastrana at a show once and told him my goal of back flipping my 85cc motorbike".
"Carlos was determined to make his dream a reality and he was also very aware of how much training and work it would take to get him there," Carlos' father Chris says.
"I knew I would be able to achieve my goal by training with the best of the best," says Carlos describing his tutors Nick Franklin and Levi Sherwood, two of the best freestyle motorcross riders in the world.
Nick runs Franklin Farm, a world-class BMX and free style motor cross facility in Tokoroa.
"Nick has a foam pit to land in so I was able to get my technique right before attempting a landing to dirt."
It took 10 months for Carlos to achieve his goal.
"I had to practise over and over again. First on a BMX bike and then on the motorbike".
Despite the foam pit and full safety gear, Carlos says there were a few bumps along the way.
"I've had bleeding noses and dislocated knuckles, but luckily I haven't had any serious injuries".
"No matter how many knocks Carlos took he just became more determined. It was very inspiring," Chris says.
Carlos says he would never have been able to achieve his goal without support from family, friends and guidance and training from Nick and Levi.
"Not many people get the opportunities I've had. I am so happy to have achieved my goal."