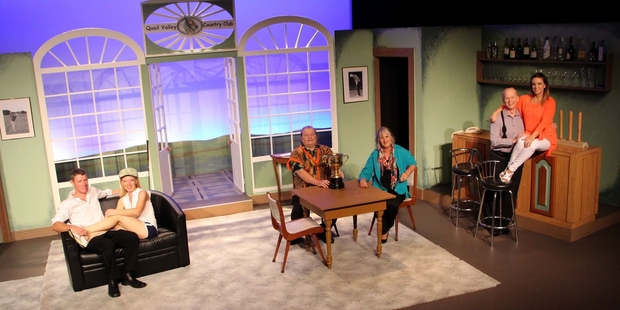 The fast-paced comedy Fox on the Fairway, currently being performed at the Cue Theatre, is an entertaining production combining madcap and witty one-liners.
Staged in the tap room of the Quail Valley Golf Club, the audience is exposed to all the drama of the annual inter-club golf tournament between Quail Valley and their archrivals, Crouching Squirrel. Jeff Lowe plays Henry Bingham, anxious determined executive director of the Quail Valley Golf Club as he attempts to break a five-year streak of losing to rival the obnoxious Richard 'Dicky' Bell played by Niall Corbett.
The drama unfolds as under the table bets, stolen players, secret crushes and long lost relatives come to the stage. The full cast, including Helen Cloke, Karlina Nickson, Chris Allemann and Valda Hinz bring this farcical performance to life with their energy and enthusiasm.
Director Joal Ertel has produced a show that can be enjoyed by the whole family, not just those with a love of golf.
Fox on the Fairway is on now and runs until April 16. Tickets can be purchased from the Inglewood Book Centre or phone 06 756 7032.