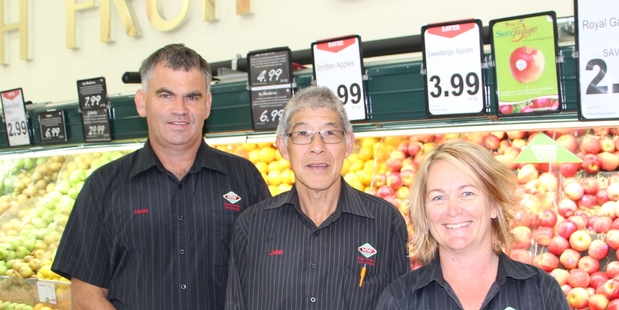 If there is final one thing Jimmy and Jackie Lim and Craig and Melissa Waite want to say to their customers, it is a simple but heartfelt 'Thank you'.
As they prepare to hand the store over to new owner operators in May, Melissa says they will miss the customers and the staff. "It is time to move on, but it is still bittersweet. We have loved being here."
Having been owner-operators of Stratford New World for nine years, they now know their customers very well, says Melissa.
Jimmy was born here and Craig and I both grew up here so we have a long history with Stratford.
Craig says it is no surprise they will all miss talking with their customers. "Our customers are lovely people, but then so is the community as a whole. Stratford has a really cool community spirit."
Jimmy says he will miss the produce department when he leaves. "It is in my blood, it has been part of my life for so long."
Craig attributes the success of the store over the past nine years to such a great team of staff. "We have a fantastic team culture here, and we are proud of the excellent customer service we deliver. We often receive positive feedback from customers regarding our team and how we operate."
The new owner-operators of the store, Dan and Rebecca Harris, currently own and operate the Foxton New World. "We have met up at conferences and stuff through the years," says Craig of the Harris'. "We have always enjoyed having a chat or a drink with them, they are good people."
"It is nice to know we are leaving the store in good hands," agrees Melissa. It has helped, she adds, in reassuring staff. "Change always makes people a bit nervous, but we have been able to tell our staff the new owners are great people and equally we can tell Rebecca and Dan they are getting a great team of staff and customers."
The store, says Craig, is a hub for the community. "People come here to shop, but they also see their friends here and stop for a chat. We have been caretakers for the last nine years and I feel we have looked after it well. Now it goes to Dan and Rebecca to carry it on."
Jimmy and Jackie are heading to the UK later this month on holiday (and for Jimmy to run the London marathon), so they will be saying their farewells earlier than Craig and Melissa, who are staying on for the handover.
"We hope people do pop in and say their farewells, we will miss all our customers and are thankful to each and everyone of them for their support through the years," says Craig.