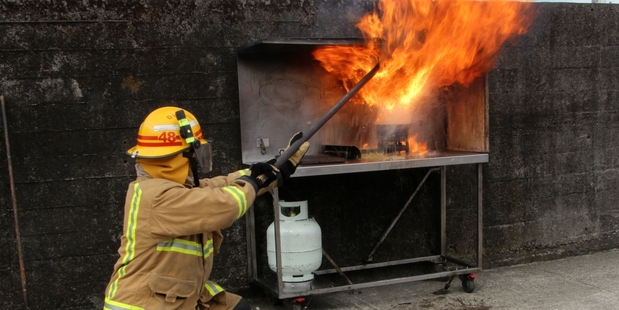 Never pour water on an oil fire was a lesson learned by all the visitors of the Stratford Fire Station Jubilee Open Day on Saturday morning.
Senior station officer Brent Rawlinson says about 300 people attended the open day to help the Stratford Brigade celebrate 125 years of service.
"We were absolutely rapt with the support from the community, it was great to see so many families come along to check out the displays and help us celebrate on Saturday."
Visitors had the opportunity to enjoy a range of antique fire engines, play on the interactive displays and watch live fire safety demonstrations.
Brent says the kitchen fire demonstration, which included a blazing oil fire, caught the attention of all the visitors. The crowd was also treated to a live rescue of a driver and passengers from a car crash.
Brent says more than 100 firefighters, including former brigade members and life members attended the 125 jubilee celebrations held over the weekend.
To commemorate the milestone for the brigade, Whanganui MP Chester Borrows unveiled the brigade's new medal cabinet on Friday night and a formal dinner was held at the station on Saturday night.
"We had 85 former and present brigade members at the dinner as well as a range of guest speakers, it was a great night."
On Sunday a group of the firefighters attended an Easter service at St Andrew's Presbyterian Church followed by a barbecue at the station to finish off the jubilee celebrations.
Saturday's open day was also an opportunity for the community to learn how to become a volunteer firefighter.
Stratford fire chief Tony Foley says the station is always in need of new volunteers, "it was great to see interest from potential volunteers on Saturday morning". Tony adds the open day was not the only opportunity to get involved. "Anyone thinking about becoming a volunteer or wanting more information can contact me at any time."
To learn more about becoming a volunteer call Tony on 027 663 1242. For more photos from the open day see page 24 and our gallery at stratfordpress.co.nz