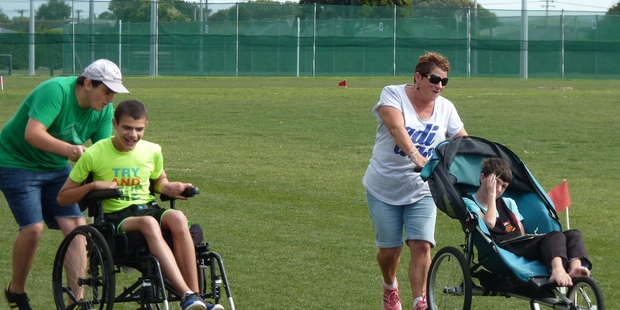 Fourteen students from Te Rangimarie, the high dependency unit at Stratford High School, went to Hawera last Tuesday to compete in the Special Olympics New Zealand's Taranaki Secondary Schools athletics day.
Almost 150 Taranaki students went head to head at The Hub in Hawera in a range of events including a 200m run, 50m walk, 25m wheelchair race, 25m assisted walk, 4 x 100m relay, long jump, softball throw and shot put.
Bronwyn Francis, 17, says she enjoyed throwing and running. She practiced in the lead-up to the event, which she thinks helped her succeed.
Luke Bulman, 13, says he was really pleased with his success in the softball throw.
"I threw it 39 metres, which is really far."
He also ran so fast his shoes came off. Jacob Bailey (14) also had shoe issues at the event.
"I was doing the long jump and my shoes slid off at the start so I had to go again. The second time they didn't come off and I jumped as far as I could."
Roseanna Garlick (15) also did the standing long jump.
"It was fun. I liked the day."
The students liked hearing everyone cheering them on.