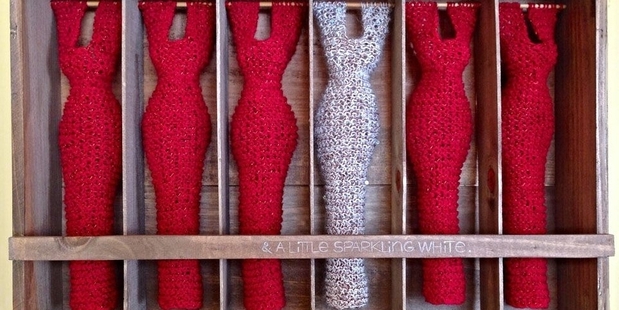 On Friday we have two exhibitions opening at Percy Thomson Gallery.
Connections 2016 comprises eight Taranaki artists who explore the pathways through which their art has taken them, connecting them in a common thread of artistic exploration.
Our second exhibition is Dale Copeland's 18th International Collage Exchange. More than 100 collage artists from around the world send a package of 13 collage artworks to Dale in Puniho.
Of each of the artist's contribution, one is exhibited and offered for sale, one becomes part of a collection donated to a chosen art institute, while the remainder are sent in mixed packs back to the artists; an exchange between peers - a parcel of surprises.
Connections 2016 artists are Jenny Bielawski, Viv Davy, Juliet Chell, Sue Morton, Antonia O'Mahony, Frances Rookes, Chris Poletti and Dorothy Andrews.
This exhibition will be stimulating and a conversation creator, where views of the world will be questioned, sometimes with a generous twist of humour.
New Plymouth artist Antonia O'Mahony travelled for many years before settling for a time in Cork, Ireland, where she was a member of Cork Printmakers, a professional studio for printmakers.
Inglewood artist Dorothy Andrews says of her work: "I love to draw plants, especially leaves and take pride in every little detail. I also enjoy drawing things from my head. Just fragments of things jumbled together to form distant memories of things that perhaps never were, or have long since crumbled away to form new shapes and objects."
Frances Rookes is interested in visually exploring the many influences that can develop or alter sense of self and to this intent creates works that provoke thought around these matters.
Frances' recreation of 'questionably perfect and skeletal forms' make reference to life's experience, self-sufficiency and human resilience.
Huinga artist Sue Morton says that, whatever else has been going on in her life, art has always been the "constant".
Her latest photographic series, Remnants of a Slice of Heaven, was born through a fascination with a local garage left desolate with remnants of the previous tenant's life there.
Opunake artist Viv Davy works with various fibre media, ranging from silk to wire. Her current body of work, Sequential, is an exploration of repetition and the building of layers of content.
Making art is joyous for new Plymouth's Jenny Bielawski.
"The ideas come into my brain in their raw form and I develop them on to paper, canvas or into structures often made with fibre or fabric, or anything else that might take my fancy."
About 10 years ago Chris Poletti began taking photographs as a hobby and discovered a passion for it. The love of countryside has always been a key factor in the choice of subject matter for her photographs.
Juliet Chell's work is informed by cultural and social issues, including information technology and the influence it has on our lives.
All are welcome to attend the opening/preview of these two exhibitions on Friday at 7pm.