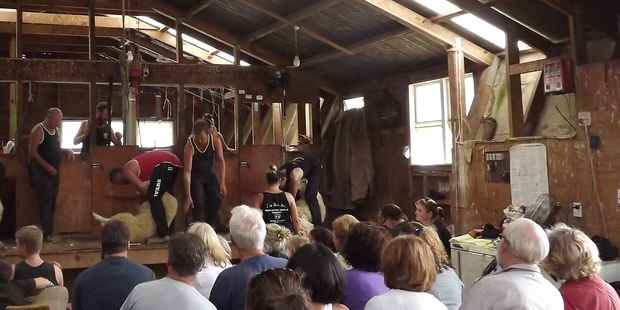 So what do a wedding party, a world champion, a posse of duck shooters and a Republic president all have in common? They were all at the annual Whanga Shears held once again at Herlihy's woolshed.
Future shearers kicked off the day with the kids crutching, which is always hotly contested. The Hutchy boys took the honours in the two events.
Local lads found out that slow is best in the Novice and Junior sections when Shell (plus bump) and Spud took the top spots with their clean shearing.
Local Jim Bob won the coveted Wayne Donaldson Trophy for the intermediate section. Stokoe grabbed the senior title with world and Golden Shears champ Paul taking out the Open.
This year there was a teams event involving a bit of grunt needed to power the hand piece then a wee drink out of a gumboot to finish off . Groom Bruce and bride Bev provided the last leg in each team, encouraged heartly by the wedding guests, with the groom's team just getting the nod.
Many thanks once again to the Herlihy clan, who have had a rough start to the year with the loss of their beloved Mick, for supplying and preparing both sheep and venue.
Thanks also to the generosity of all the sponsors. Awesome prizes once again.
The day runs like a well-oiled machine. Thanks to all the workers-judges, rousies, pressers, time keepers, MCs, catchers, points ladies , rehydration experts and master chefs. Nothing like a hot mutton sandwich washed down by a Tui to round off another good old day in the Republic. So mark it on the calendar for 2017-always the last Sunday in February. See you there.
A big shout out and congrats to our Olympian, Kayla Pratt, who has been selected in the women's rowing 8 to go to Rio. A mighty effort and all in the Republic wish you the best.
Also well done to Couchie who was selected to judge at the Golden Shears this year and will be judging at the New Zealand Shearing Champs in Te Kuiti.
Results: Kids unassisted crutching- 1st Max Hutchinson, 2nd Reuben Pease, 3rd Paora Herlihy. Assisted kids crutching- 1st Gus Hutchinson, 2nd Kiwa Herlihy, 3rd Maia.
Novice-1st Rochelle Herlihy, 2nd Spud Chadwick, 3rd Rhys Pratt.
Junior- 1st Rochelle Herlihy, 2nd Spud Chadwick, 3rd Geezer Matthews.
Intermediate- 1st Jim Bob McFarlane, 2nd Walter Pease, 3rd PeggySue Tohengaroa
Senior-1st Mark Stokoe, 2nd Lionel Stone, 3rd Mark Coplestone
Open- 1st Paul Avery,2nd Lloyd Alexander, 3rd Colin Couchman.