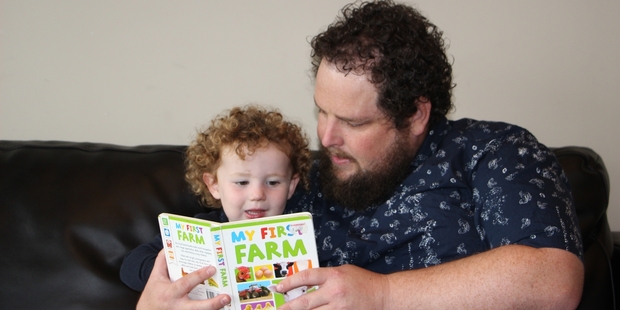 "I can't imagine life without my dad."
Laird Harper says his own experience as a son, and more recently as a father, showed him the importance of father-child relationships.
People talk about the need for more male teachers, more male role models. Well that starts at home. Children need positive relationships with their fathers.
Helping fathers from all walks of life achieve this is the basis behind a new trust formed this month.
Taranaki Kidz need Dadz has launched its Taranaki branch with Laird as chairman.
Modelled on what Laird calls the fantastic work achieved by Pam Bassett, the former HRC Family Counselling manager now based in Tauranga, the trust aims to work with fathers who want to build positive relationships with their children. Laird says he heard Pam speak at a public meeting last year.
"She said she had achieved more in the fight against domestic violence in a past few months in Tauranga, than she had in 14 years in Hawera, and she thought the difference was that in Tauranga she was working directly with the fathers through the Tauranga Kidz Need Dadz trust."
Looking to replicate that success, Laird has joined forces with "an amazing group of people" to create the trust. Each individual brings different experiences to the table he says.
"I am so lucky with who we have. My fellow trustees have a vast range of experience".
"It's a passionate group," agrees Jac Potroz, the trust secretary.
"We all want to give fathers the chance to make good choices, to empower them to be able to build positive relationships with their children."
When a relationship ends between adults, it doesn't mean an end to the relationship between either adult and the children.
"One of the things we want to look at is ways in which we can help there, from having a place where a father can spend time with his children to a support group or access to legal advice."
The trust plans to start with support groups in towns around the area.
"We will be in Stratford as well as Hawera where we are based, and we will go where the need is," says Jac. She encourages people to contact them to find out more about what they can offer.
"We will run information sessions, peer support, education sessions.
"Once we start the support groups we will gain feedback on what is most needed where."
The trust is "fluid" says Laird.
"We want to hear from the community about what is needed.
"Every child deserves a positive male role model in their lives, and we are here to make it happen."
To find out more, check out the Facebook page: Taranaki Kidz Need Dadz or email taranaki@knd.org.nz