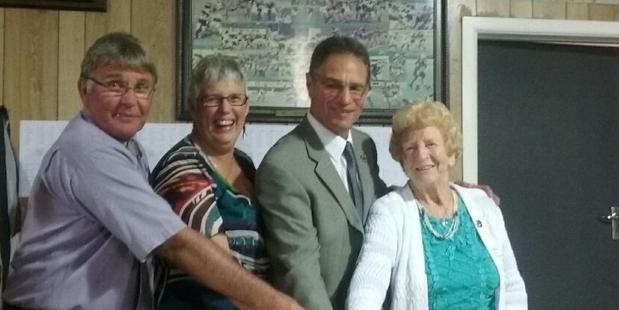 Black and White was the theme for Kaponga Amateur Athletic Club's 50th Jubilee dinner held on Friday, March, 18.
A total of 59 past and present members attended the evening. The sub committee of seven decorated the Kaponga Rugby Club rooms in the club colours of black and white.
Committee minutes, photos, certificates, trophies, along with Kaponga's past and present uniform were on display.
Current president, Les Symes, welcomed everyone and gave an overview of the club format and the success of the current members to date. A buffet meal was enjoyed while five young members wearing the current uniform waited on the tables after an address from club patron and life member Peter Eliason.
Past president Geoff Harding recalled former days, followed by past member Natasha Cameron, who spoke mainly to the five young members urging them to enjoy athletics as it opened doors to all other sports.
The cake, made by parent member Kylie Taylor was cut by four life members, Mike and Helen Cameron, Peter Eliason and original life member, Jean Christensen.
The Club appreciated support from Eltham Vets, Kaponga Lions and Kaponga Rugby Club.