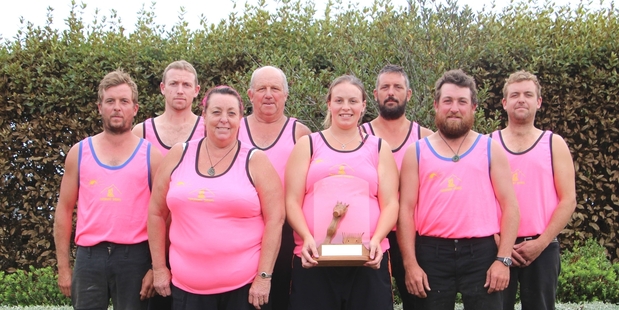 "Best quality, that was his strong point," says Mark Herlihy of his brother Michael and his successes in shearing.
"He won best quality at the Golden Shears last year. He loved competitive shearing. He loved to come and gloat to the rest of us about his wins."
The family is honouring Michael with the Michael Herlihy Memorial Trophy for the Best Quality Shearer Overall (excluding open class), to be awarded annually at the Taranaki Shears, with this year's trophy going to Ricci Stevens.
"He always had a bigger chest than you guys," says his sister Rochelle, laughing as she remembers how much 20-year-old Michael enjoyed the rivalry with his five brothers.
Rochelle and Mark, along with their other four brothers, donned pink singlets to present the new trophy at this year's Taranaki Shears last Friday. Michael's other sister Emma is in the UK so was unable to be there.
"We wanted to recognise Michael's passion for competitive shearing, and best quality was an obvious category as he excelled at it," says Mark.
"Michael's death came as a huge shock to us all," says Mark. "Michael had everything to live for, we were just days away from attempting to set a new world record which had all been his idea. It was going to be the six of us brothers, with six stands, shearing for eight hours."
With a close and loving family around him, along with the wider family of the shearing community, Rochelle says Michael's death is a poignant reminder that "no-one really knows what is going on inside someone's mind."
Just two months on since Michael's funeral, the Herlihy family are determined to ensure his death is not meaningless.
We want to raise awareness of depression and the issues around it. We want to encourage people to talk openly and to look out for each other.
As well as presenting the trophy on Friday, the Herlihy family sponsored a relay event, The Herlihy Relay, and donned the pink singlets for that as well.
"We chose pink because Michael would have loved that," says Rochelle. "He always wore bright colours, pink, yellow, orange, anything to stand out. Although he didn't need a singlet for that really. He stood out just by his very nature."
SEEKING HELP
People in crisis or concerned about someone who may be in crisis can call these confidential helplines:
Lifeline: 0800543354
Samaritans: 0800726666
Depression: 0800111757