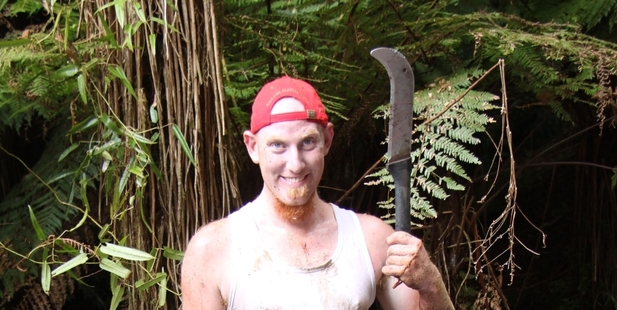 The North Taranaki Young Farmers continued their fantastic support of the Purangi Kiwi Project recently with another working bee. The team of young farmers were joined by our junior volunteers Quin (7) and Tom (4) who worked alongside their dad, Nick Kowalewski marking and benching the new walkway.
Several hours of shovelling, chopping, digging, laughter and mudslinging saw the track formed, ready to install our new boardwalks in the near future. This new track will provide the public with a less strenuous walk through a secret hobbit valley and enable more people of all ages to enjoy and learn about our project area and our kiwi protection work.
To reward everyone for their hard work, the day was finished with venison and sausages on the barbecue.
The Purangi Kiwi project is home to over 500 pair of kiwi and the walkways at Purangi allow the public enjoy a snapshot of the wider project while enjoying the stunning native bush habitat.
If you would like to volunteer and help save our iconic kiwi, then email etet.kiwi@gmail.com for more information. For more news on our project check out and like our Facebook page - search 'ETET' and look on our website etet.org.nz.
The North Taranaki Young Farmers meet on the first Wednesday of every month at the Inglewood Fern lodge.