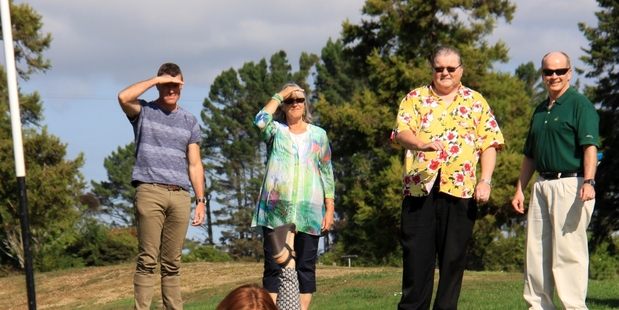 The cast and some of the backstage crew of Ken Ludwig's The Fox on the Fairway enjoyed an hour or so on the links at Inglewood Golf Club last weekend discovering some of the joys of golf courtesy of long time club member Graeme Small.
On a gloriously sunny afternoon they were shown around the club, admiring the spectacular display of trophies, asking questions about the club, the great game itself, and venturing on to the green, armed with an array of golf bags, clubs and balls.
There was much excitement and laughter, but not a lot of promise shown, although it was reported that one actor managed a successful putt.
Fortunately they all show much greater talent on the stage at Cue Theatre, rehearsing for this very entertaining comedy, the story of which bears absolutely no resemblance to the Inglewood Golf Club or its members!
We hope that the golfers in our audiences will gain extra enjoyment, understanding the game as they do. Our team certainly enjoyed the hospitality and the beautiful grounds of Inglewood Golf Club, preparing for their performances.
"The Fox on the Fairway" opens at Cue Theatre on April 2 and runs until April 16, bookings at Inglewood Book Centre