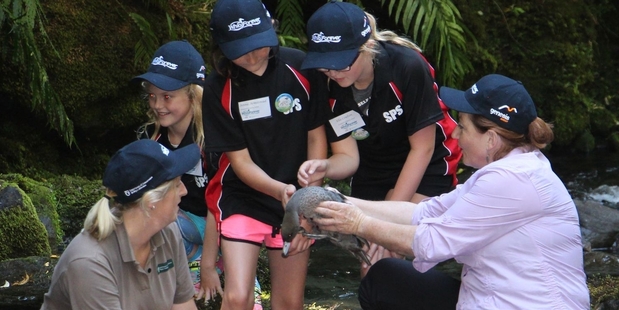 A 10 dollar note is the closest most New Zealanders will get to a whio duck but one lucky group of Stratford Primary School (SPS) pupils recently had the chance to get up close and personal with the endangered species.
Six members of the SPS Tuis Environmental Group experienced this rare opportunity last Friday when they were invited by the Department of Conservation to a whio duck release on Mount Taranaki.
"It was such a great experience, it was so amazing watching the birds be released," says Ella Coulton (12), environmental group head of department.
For Jake White (8) and Masyon Austin (10) the experience provided valuable information.
"We are doing a project on whio ducks at the moment so it was great getting to learn lots of facts about them," says Jake.
The ducks, two male and two female, were bred in captivity and came from the hardening facility at the Tongariro National Trout Centre.
The facility is like a 'boot camp' for young whio to prepare them to survive in the wild says Ella, adding the ducks are taught to navigate the wild rapids of the mountain rivers.
Toni Cameron (12) says the ducks were rather vocal as they were being transported onto the mountain.
The females growl and the males whistle. That is actually how they got named the whio, because of the whistle.
Jenna Armistead (8) says the ducks were rather shy and overwhelmed by all the people, "but they seemed happy once they were in the river".
Cyanna Rogers (9) says only six members of the 35 strong environmental group got to attend the duck release.
"I feel very lucky I got to see it."
With last month's release, there are now 33 pairs of whio ducks on Mount Taranaki.
March is Whio Awareness month, for more information on the iconic bird check out www.whioforever.co.nz