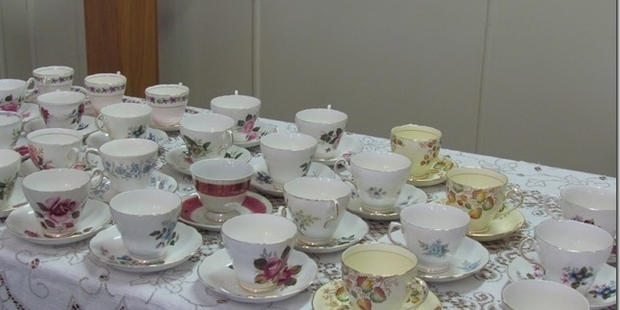 When I first started working for the Stratford Press, one of my first jobs was to attend a Stratford Women's Club ladies luncheon at the Centennial Restrooms.
For various reasons, I had to take my then four-year-old daughter with me as she wasn't at daycare that day. When we arrived, she saw the tables beautifully laid out with delicate china, perfectly cut sandwiches nestled next to freshly baked slices, the ladies all in their Sunday best and she whispered to me in pure delight, "Mummy, it's like a tea party for the queen!"
She was right. Those ladies, members of the Stratford Women's Club, give their coffee mornings and luncheons a beautiful sense of occasion as well as a feeling of fellowship and company.
"It's nice to dress up and use the best china," says club secretary Marlene Ridley, who adds being able to use the "beautifully equipped" Centennial Restrooms as the location gives them a setting in keeping with their style.
President Joy Neild says she was involved with the group some years ago, and got involved again "as I wanted to play Bolivia (a version of Canasta)".
She says the group have many active circles operating under the overall umbrella of the club.
From Bolivia to a garden circle, bridge playing to reading and discussion groups, whatever your interests are we are likely to have a circle that will appeal to you.
The Women's Club objectives are to provide a centre for women interested in public, literary, scientific, social and cultural affairs says Marlene, and the various circles certainly cover those areas as well as providing some fantastic fellowship.
"Some of our members live alone, so having a group of like-minded people to meet up with is really important," says Joy, who says every coffee morning they hold begins with coffee "and the chance to chat with each other before we sit down to listen to a speaker". The conversation is always lively she adds, "and sometimes I hate ringing that bell to call everyone to order and to quieten down for the speaker as I know those chats with friends are so important".
Marlene says the value of the fellowship offered should not be underestimated, "everyone who comes along to our meetings leaves with connections and friendships that add value to their everyday life".
Want to find out more? Contact Joy on 06 765 5927 or come along to the group's next coffee morning, held at the Centennial Restrooms on Fenton Street, Wednesday, March 23 at 10am.