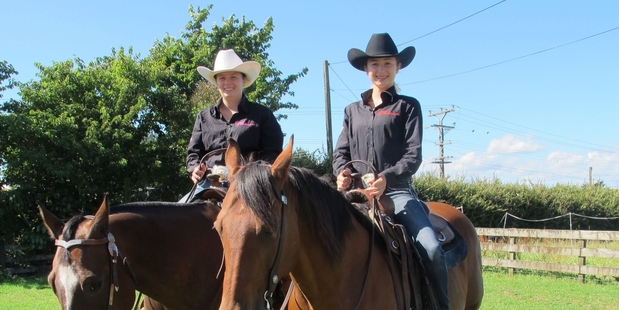 Gingerbread houses, wheelbarrow raffles, advertising on their family car and bales of hay. Siblings Alice and Hollie Bruce are fundraising any way they can to get themselves to Tamworth, Australia for the 2016 American Quarter Horse Youth World Cup.
While the girls have competed in western performance horse riding across New Zealand for the past three years, they both say being selected to represent New Zealand came as quite a shock.
Alice, 16, explains while riders compete at events throughout the year, anonymous selectors choose who will represent the country at the biennial Youth World Cup.
"It was so exciting to hear we had been selected but we had no idea it was coming so it was a huge surprise."
The Youth World Cup is open to riders aged between 13 and 18, with just eight riders from across the country making the New Zealand team.
Alice and Hollie are the only two riders from Taranaki to have been selected this year so they are looking forward to meeting fellow competitors at training camps over the next few months.
Before heading to the competition in June, the sisters will attend a series of training camps in Taupo with the other six New Zealand riders. Hollie says these camps are really helpful as riders do not get to compete on their own horses at the world cup event but are judged in part on their ability to control the horse they are given to ride.
"In Taupo we ride each other's horses as practise for this."
Hollie says the girls have always had a love of horses and took up western performance riding only three years ago. She says compared to traditional English riding, western performance is much more relaxed.
"We don't have any contact with the horse's face and the riding style is a lot slower and more relaxed."
She adds other major differences include the style of saddle and the rhinestone-studded outfits.
The cost for Alice and Hollie to attend the AQHA Western Youth World Cup is around $3500 each and the girls are working hard fundraising.
"We thought selling off advertising spots on our family ute could be a creative way for local businesses to help us reach our goal," says Alice. The sisters are also selling raffle tickets for a range of different prizes.
"Getting chosen to represent New Zealand was a dream for us both. We just hope we can hit our fundraising goal to make our dream come true," says Hollie.
Alice and Hollie have created a Facebook page so the public can see how close they are to their fundraising goals. To donate or see their progress search The Bruce Girls.