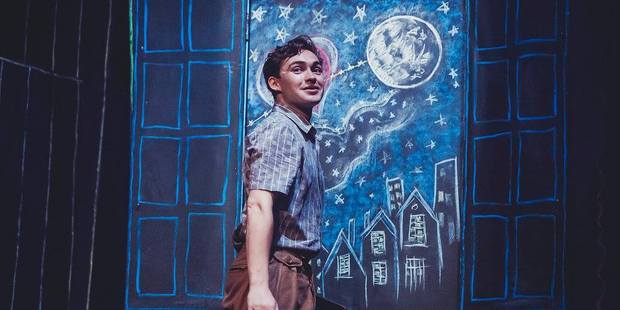 When reviewing a play of which the central character is a nine, nearly ten, year-old boy, it makes sense to take one with you, and so this review is a joint effort between myself and a ten, nearly eleven, year old boy. (Sorry, couldn't match the age exactly, I only have three children to choose from...)
Tonight was the opening night at the TSB Showplace for Silo Theatre's production of The Book of Everything which is in town for two nights only at the TSB Showplace in New Plymouth.
The ten-year-old and I were both immediately entranced by the clever stage design. The use of chalk helped remind us that this play was set inside a child's world and imagination, even as it navigated through some very adult themes and dramas.
It is testament to Sophie Roberts' skill as a director that the constant breaking of the fourth wall (that imaginary wall between an actor and the audience) did not dampen the strong emotions and messages coming across.
Instead, the moments where the actors engaged the audience directly helped to balance the raw emotion portrayed at other points.
The set was simplistic, yet also detailed. The ten-year-old particularly liked Mrs van Amersfoort's room, saying it showed how she was different to the other people in Thomas' world.
Thomas, through who's eyes we see much of the action, was portrayed brilliantly by Patrick Carroll. Every move, every word spoken, convinced us all that we were watching a young boy on stage, not someone in their early 20s.
Particularly convincing where his scenes with Eliza (Michelle Blundell). The two of them captured all the sweet awkardness of a crush in a way that was realistically endearing.
It is hard to write about some of the most moving parts of the play without spoiling the plot, but the scenes between Thomas and his 'Mama' (Amanda Billing) certainly brought a tear to my eye at times.
Every actor was well cast, but special mention must go to Stephen Lovett's 'Papa', who gave convincing depth to his character ensuring the audience had sympathy for him as much as they also disliked him.
Rima Te Wiata is always a delight to see on stage, and in her role as Mrs van Amersfoort she certainly didn't disappoint. She drew the audience in to her world just as she drew Thomas in, making us all want to sit and listen to poetry and music while sipping cordial!
It was a pleasure to see so many young faces in the audience, this play serves as the perfect introduction to live theatre and despite the adult theme in parts, it's message is of hope not despair.
This production is live theatre at it's best and if you are only going to see one play this year, make it this one please.
In the words of the ten=year-old (nearly 11) reviewer I brought with me, "it is so good you don't want it to end and when it does you want to go and play with Thomas and Margot at their house or maybe go sit in Mrs van Amersfoort's library rather than go home".
In an audience Q and A session after the performance, Te Wiata said "I would rather work in a coffee shop than be in a crappy play," with companies like Silo Theatre in the country, she is probably safe from serving a latte any time soon!
See it now! The Book of Everything is at the TSB Showplace, New Plymouth, Friday and Saturday March 4 and 5. Tickets available through www.ticketmaster.co.nz