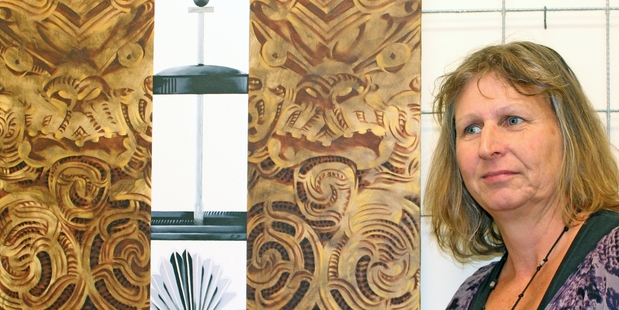 It's birds, birds and more birds at Percy Thomson Gallery in March.
This outstanding exhibition features the work of five New Zealand artists who have an affinity with our feathered friends, Miranda Woollett, Martin Carryer, Margaret Scott, Lee-Ann Dixon and Justine Giles.
New Zealand bird and landscape artist Miranda Woollett's vibrant oil paintings depict birds in their natural landscape.
"The idea behind these oil paintings is to try and represent how I feel emotionally as an artist and to communicate on an environmental level. Rather than using people as my subject I choose the bird. It is vulnerable, yet gets on with life regardless of circumstances and has a neutral persona. Its environment is affected by the choices we make.
"My art is sourced exclusively from my home and garden, and my paintings reflect that uniqueness."
Miranda has illustrated books for renowned children's authors Margaret Mahy and Joy Cowley.
Martin Carryer's wood and metal sculptures capture the essence of New Zealand native birds, while also alluding to the destruction of the birds' natural habitat by humans. His work is driven primarily by a fascination with form and a passion for the process of translating that form into his lifelong medium of wood.
Martin first delved into woodwork around the age of 10, crafting samples to demonstrate the beauty in the grain of various timbers. Though his livelihood was farming in Taranaki and the Manawatu, Martin started making furniture in the 1970s, one-off pieces in native timbers. In the last decade he has become increasingly interested in contemporary design and has become progressively experimental.
Martin began sculpting birds in 2009, developing a style through investigation of the form. He is enchanted by capturing the expression of New Zealand native birds and by the identity associated with birds in our history.
Margaret Scott has lived all her life on the Taranaki coast. Her work reflects the rural environment where she lives, beautiful coastal, mountain and bush vistas, often with symbols and motifs which represent her surroundings.
Margaret has had numerous solo exhibitions in the Taranaki region and has exhibited widely throughout New Zealand.
Margaret has recently published her second book titled Portrait of a Paua, part autobiographical, part anecdotal with art tutorials and tips and, of course, paintings.
Margaret now works from her Art by the Sea studio at Oakura and regularly offers workshops and classes.
Originally from Marlborough, Lee-Ann Dixon has been in Nelson since leaving school. She graduated from NMIT in 2005 with a bachelor of Visual Arts.
"Since then I have been juggling my art practice with raising my four children and work. As my life changes so does my artwork. Mostly it is an ongoing theme of motherhood and domesticity. As my children grow older I have more time to reflect and remember my own childhood and identity," she told me.
Her subject matter reflects the particular faze of life she is in.
"When the kids were smaller it was teacups and teapots referring to nurture, family and precious time out for a stressed mum. Now it's moths, birds, animal skulls and even teddies."
Lee-Ann paints on recycled silver trays.
"This was born from watching my late mother's china cabinet full of her treasures and the special memories attached to them. Sadly, when I went to the recycle centres and garage sales I saw many of these same treasures that had been discarded.
"I collected the trays to represent these treasures and to breathe new life into once-loved objects."
Her works in this exhibition are about childhood memories of growing up in the countryside in the 1970s.
Justine Giles' art practice incorporates primarily drawing, watercolour and found objects and is concerned with the themes of trace and potential, the literary, and text as image. Justine gained her MFA with First Class Honours at Whitecliffe College of Arts & Design in 2015. Her bird portraits are delicate and fine with great attention to detail.
Everyone is welcome to attend the opening at 7pm on Friday, March 4.