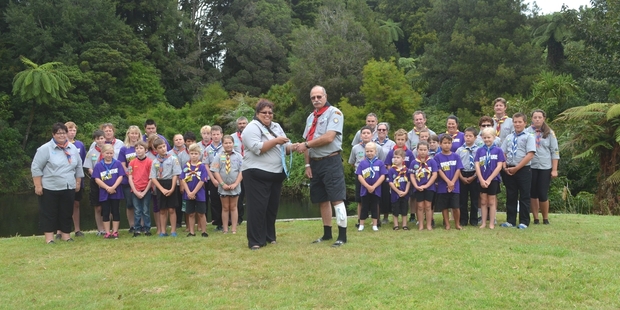 Taranaki Zone Leader for Scouting New Zealand, Tevai Barr, says she was thrilled to present Bruce Jamieson with a prestigious Silver Tiki medal, representing 20 years of service to Scouting Taranaki.
"Bruce has inspired many over the years," she said.
Bruce was honoured with a special presentation ceremony at the Scout Den in Stratford on Sunday, and said he was delighted with the award.
Scouting is "a brilliant youth organisation" that offers something for all young people, Bruce says.
Bruce's own association with the scouting movement began back in the 60s when he joined the cubs in Stratford.
"Then when my two boys were old enough I encouraged them to join. They both got their Queen Scouts awards."
Scouting has always struggled to get enough adult helpers involved.
"So helping out was something that made sense, to ensure scouting in the area was available for my own children and grandchildren."
Bruce says scouting opens up opportunities for young people.
"Over the years we have taken some of them on container ships, had helicopters land at our camps. When you ask people to do something for you, and you say it is for scouts, they are happy to get involved. It has a good reputation and deservedly so."
Scouting gives young people life skills and encourages a love of the outdoors as well as encouraging personal development. Tevai says Bruce's passion for scouting is apparent.
"He has given many years of tireless service to the organisation, so it is great to be able to recognise that today."
Want to get involved? Visit www.scouts.org.nz to find out more.