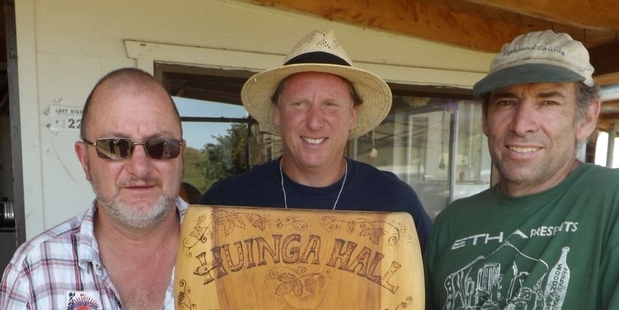 The 6th annual Huinga Homebrewers Festival took place on Waitangi weekend, with a range of home-made edible and drinkable treats to be tasted and judged.
Created with resourcefulness, artistry and innovation in typical Kiwi ingenuity style there was a diverse selection of homemade beers, wines, ciders, liqueurs and spirits not to mention chutneys, relishes and jams on offer.
The judges this year consisted of Ian Watson (Wellington), Susan Haniel (Wellington), Miriam Sorenson (Wellington and last year's best overall brew winner) and Chauncy Ardell (Stratford). The judges awarded best overall beer 2016, to Paul Rogers from Hawera for his IPA.
The winning people's choice relish was submitted by local group Spread the Love, and this they did in spades with their winning Hot Atomic Tomato relish.
Michael January, a Taranaki homebrewer from the coast, won people's choice for both items he entered - Kiwifruit vodka and Black sambuca, which was a pretty purple colour and tasted as great as it looked.
Shed 52, a trio from Wanganui who won the wooden spoon 'I spat it out' award last year, upped the ante taking out the people's choice for their draught, dark and strong ales although the judges weren't convinced and awarded top of these categories to three other brewers.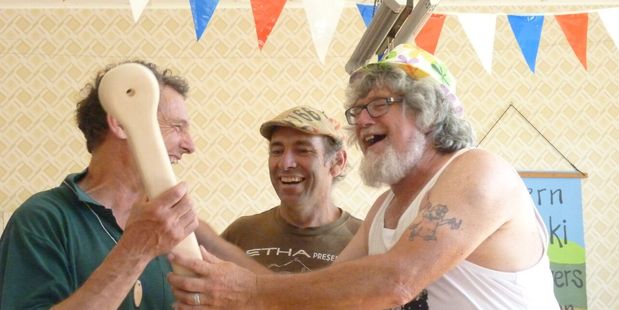 The ever-elusive Malcolm Nabbs entered 11 different brews into six different categories, winning a total of three awards. Malcolm also received this year's wooden spoon for his not so smooth cone hops brown ale. All of his awards were accepted by his parents Dave and Michelle Nabbs who were in attendance from Upper Hutt. They promised that Malcolm did indeed exist and was not just a figment of their imagination, having previously said he would attend this year.
When the awards ceremony was finished everyone headed up to Huinga school where camping was provided for the weekend.
The 100-strong crowd shared a meal and entertainment from a number of New Zealand bands. Fiddlers Pie were the main act and provided fabulous entertainment in the form of old-time country and thigh-slapping honky tonk music. Fiddlers Pie is currently on tour around New Zealand with a multi-national crew hailing from the USA. T.Claw was the caller hollering out instructions such as 'I'll swing yours, and you swing mine' in a remarkably successful wrangling of the crowd into a fashion of square dancing and other fancy footwork.
For more photos, see the online photo gallery on our website: www.stratfordpress.co.nz