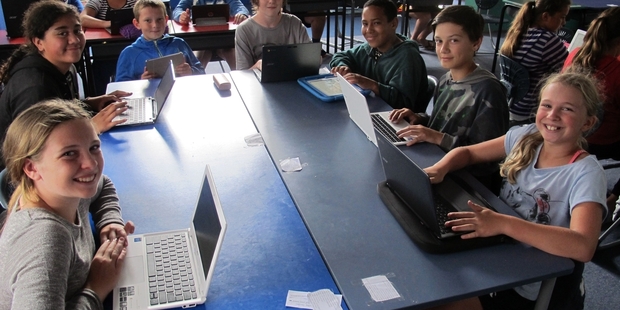 "No child should miss out on technology" says Kaponga School principal Shane Downs.
He explains why achieving a one-to-one device to student ratio was so important to him for Kaponga School.
"As technology advances so does the way that students learn and interact. Through this technology we can teach the students how to be responsible digital citizens and how to be competent in a digital world."
At the end of last year Kaponga School received a grant from TSB Community Trust for $19,000 to help Shane achieve this ratio. Along with funding from the school's Parent Teacher Association and the Board of Trustees, Shane purchased a range of iPads and Chromebooks for the school.
"We have started the new year with the ICT equipment integrated into students' everyday learning and have already seen an increase in the sharing of learning between the teachers and pupils as well as pupils and their families."
Shane says each student has their own Gmail account which allows students to access their projects through their devices at school as well as through personal devices at home.
Senior class teacher Haydn Wright says by using the teacher dashboard function he can flick between students devices to see how their work is progressing.
"The ICT equipment is a real advantage for the reluctant learner. If a student is struggling to get motivated I can type a message on to their screen so they don't feel singled out in front of the class."
Haydn adds the devices also give the students a creative outlet.
Students took to the challenge of creating movies and digital graphics for the annual MOA Kluster Awards at the end of last year. The awards are designed to recognise digital excellence in education at Matapu, Opunake, Auroa and Kaponga Schools.
Shane says staff have also found that students are working more independently and taking ownership of their learning.
"Children learn so fast, and with the ICT equipment we don't have to hold their hand through each process. The students learn new skills and develop their knowledge at their own pace on the devices."
Skills such as handwriting and presentation are still important lessons in the classroom.
"We aren't taking on a full immersion. In particular maths will still be taught with the use of pens and books, supported by devices."
As the school roll grows, Shane is encouraging pupils to bring their own devices to school so that sharing between school and home is strengthened.