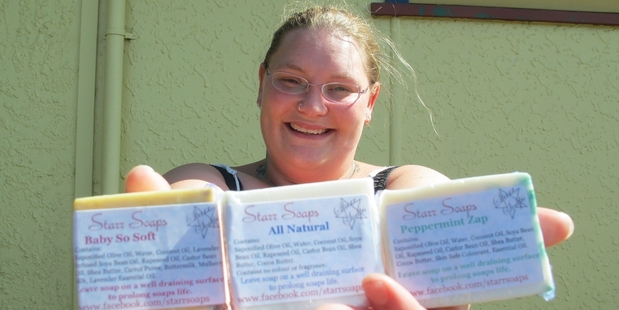 Homemade treasures, arts and crafts are going to be readily available in Stratford next month with the introduction of a monthly arts market on Prospero Place in Stratford.
"I want to give home based businesses a chance to get their products out there and make a name for themselves," says market organiser Crystal Anderson.
Crystal, owner operator of Starr Soaps, says as well as home made products, she encourages local farmers to set up stalls to sell fresh produce.
The markets are going to be held on the first Saturday of every month starting March 5.
The markets will run between 10am and 1pm.
"I am hoping that customers who visit the stalls will also wander onto the main street and visit Stratford's local businesses too."
Shoppers browsing the stalls on March 5 will also enjoy live music performed by local musicians Not The Boss.
Crystal says the cost to hold a stall at the markets is $10 per stall, which goes towards the cost of the permit with the Stratford District Council.
While she is open to accepting stall holders who show up on the Saturday morning, there are a limited number of stalls available so it pays to register your interest with Crystal as early as possible.
The first monthly craft market will be Saturday, March 5 between 10am-1pm at Prospero Place.
For more information find Prospero Monthly Crafts Day on Facebook or phone Crystal on 022 043 7166.