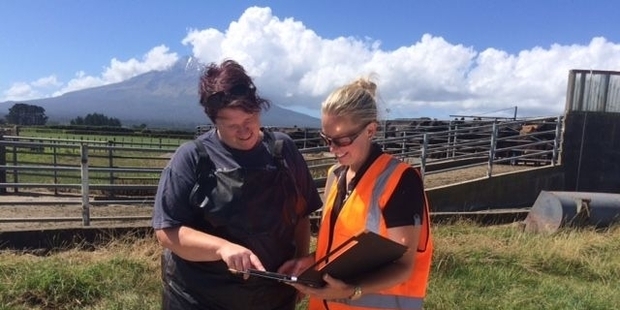 "People just want to know what to do and how to do it effectively."
Rachel Short is a consultant for OnFarmSafety New Zealand and says the best part of her job is being able to offer solutions that make sense to the individual business.
Rachel and her colleague Shelley Beare work with farmers across the region and country, helping them find ways to implement health and safety procedures and policies that meet legislative requirements as well as being relevant to the individual needs of their farm.
Andrew and Tanya Dobbin are in their third season sharemilking 300 cows at a farm on Opunake Road and say having Rachel help them set up their health and safety strategies was the best decision.
"She knows her stuff and comes out to the farm so you aren't sat in an office trying to explain what your place looks like. She sees it and walks it with you."
Tanya says working with Rachel has made them more confident in how they do things throughout the business. "Our old policy simply identified hazards.
Now we have something which doesn't just identify the hazards but also tries to correct them."
With two children, the couple say it is important that they are able to ensure their workplace is as safe as possible.
Part of the appeal of farming is being able to have your children with you at times in your workplace. So we aren't just looking at ways to keep the business safe, but we are making changes that help us keep our children as safe as possible too.
Rachel and her husband also combine farming with family life.
"Farms often aren't just a workplace; they are a home as well so it is vital we look at how we can make it as safe as possible."
If farmers didn't feel able to have their children on the farm she says, the future of farming would be in trouble.
"Farming is often a family business, and it is important to find ways that help keep everyone safe on the farm, visitors, contractors, workers and family members," Shelley says.
While every farm she has worked with has been unique, Shelley says some key messages carry across them all. "The importance of respecting machinery, the land, the animals and your environment, of recognising the risks and taking steps to ensure those risks are well managed."
When Shelley started working with Kent and Nicola Weston-Arnold in Waitotara, Kent says he and Nicola thought they were heading in the right direction but wanted to make sure". Health and Safety is a vital part of being a good employer, says Kent.
"We can come back from a drought, or a low payout but it would be harder if not impossible to come back from losing a person on our farm."
Working with a consultant like Shelley helps provide discipline.
"There is someone there to make sure you do what you plan to and to keep you on task and focused," he says.
Describing it as "a gentle nudging" Kent says having Shelley check in with them regularly ensured they didn't put off looking at their health and safety plans.
"Farming is a busy job. It can be easy to ignore the need to get things like health and safety planning done. By bringing in an expert, we have ensured our plans are as good as they can be."