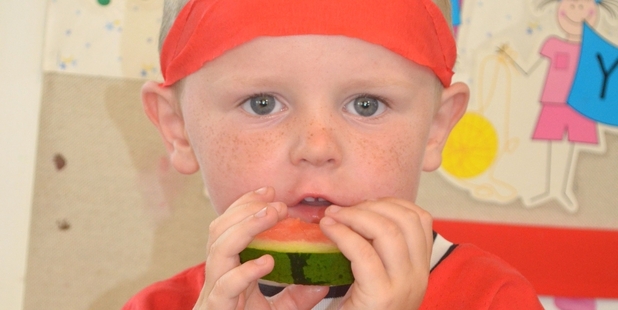 They have happy, healthy hearts at Avon Kindergarten, and they have the certificate to prove it!
The kindergarten has been working towards achieving their Healthy Heart Award from the Heart Foundation, and on Friday they were visited by Anne Berrie, the Heart Foundation Taranaki health promotion co-ordinator, who presented them with the rito award, the first in a series of three awards groups can work towards.
The award recognises the kindergarten's commitment and achievement in founding a heart-healthy environment in terms of nutrition and physical activity, says Anne.
They have worked really hard on this. They reviewed their lunch box guidelines, have taken part in lots of physical activity, they have invited parents in to do workshops as well as completing plenty of staff professional development on food nutrition.
Anne says she is particularly impressed with how the children themselves have taken on the learning.
"They have been really involved right from the start. Every time I have visited they have been rushing to tell me something new they have tried or done. It is their enthusiasm for it all that has made all the difference."
Four-year-old Sharn McGill says he loves zucchini fritters so much he even dreams about them at night.
"And watermelon, I like that lots too." Sharn, like many of his friends at Avon Kindergarten, has tried lots of new foods and tastes as they worked towards the award, and he has become a real fan of some of the recipes they have tried.
"Zucchini fritters are the best. I want to eat them every day, but I also like the fruit we have and I like all the games we play outside to keep our hearts healthy."