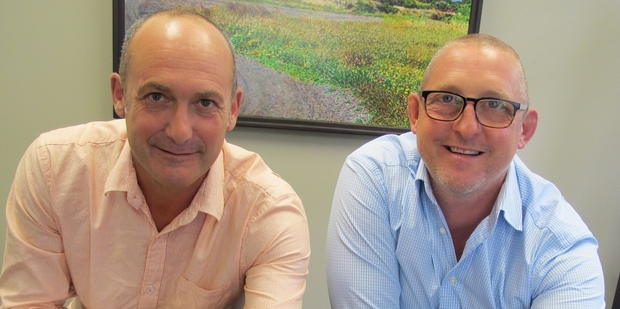 A farm finance 101 guide for local farmers is about to be distributed throughout the region, thanks to the generosity of CMK principals John Dazley and Andrew Darke.
Grow Your Numbers, a follow on from John's previous book Know Your Numbers, was developed as they saw a need in the market for a reference guide for farmers as a complete tool for farm finance, says Andrew.
With recent changes in the dairy industry, there are farmers who have been left to survive on half their salary. Grow Your Numbers can help farmers get organised and prepare for how to deal with such uncertainties.
Currently, the pair are in the process of distributing 5000 free copies of their new book to rural addresses around the region.
"As farmers in Taranaki are struggling at the moment, we saw this as a way to do our part to help them stay afloat," says John.
CMK, which employs 30 local staff members, covered the cost of publishing, printing and distributing the books.
Andrew says the book has already received a lot of positive feedback, with many clients referencing the book when visiting their accountants.
Andrew says the pair have also had a wealth of feedback from organisations such as DairyNZ.
"Grow Your Numbers provides a superb starting point for anyone entering business ownership," Lynaire Ryan, DairyNZ Business Developer, says.
"It explains all essential financial terminology very clearly and simply. The information is set out in a logical form, and demystifies financial jargon. Reading this book will provide instant knowledge now, and set a clear platform of understanding on which to build future financial progress."
John says when writing the book, the pair wanted to ensure it would be something that anyone could pick up and learn something new.
"We wrote the book in such a way that it would be easy to understand. It is not just a bunch of jargon. Grow Your Numbers is written in a functional, practical manner with relatable real life examples."
While the book is written for all agri-business, it does have a slant towards dairy farming. However the pair agree there are still gaps in market for knowledge and they have plans to write more books covering other fields.
Grow Your Numbers is not just tailored for Taranaki farmers Andrew says, and he hopes the book will become a reference guide for the industry.
"At CMK we have clients throughout the country, from Whangarei to Invercargill, so the book is also available at our website www.cmk.co.nz."
"Nowadays the amount of money that farmers are borrowing is exponential, we just want to help them know their numbers and grow their numbers," John says.
CMK has given us two copies of Grow Your Numbers to give to two readers. Call the Stratford Press on 06 969 4022 or email editor@stratfordpress.co.nz with name and contact phone number. Include book giveaway in the subject. Competition closes noon on Thursday, February 18 and the winner will be announced that afternoon.