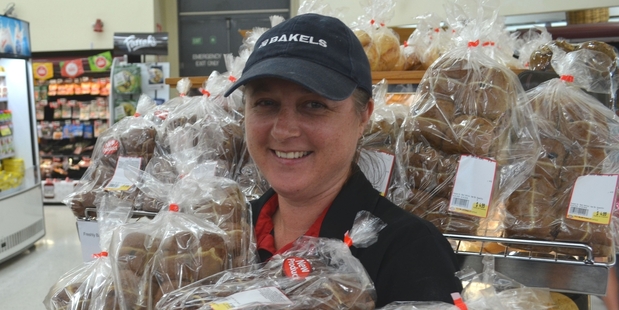 "Hot-cross buns!
Hot-cross buns!
One a penny, two a penny,
Hot-cross buns!"
They might be priced at a bit more than one a penny nowadays, but hot-cross buns are as popular as ever, says Amanda Garner, and she would know.
As the 2IC at Stratford New World Bakery, Amanda is in charge of baking these seasonal treats, and just a few weeks into the new year the store is already selling 10kg of them a day. This figure, she says, will increase dramatically as Easter approaches.
"It may feel like a long way to go before Easter but customers seem to want them earlier and earlier, in fact we could probably sell them all year round." Amanda says she isn't surprised by their popularity. "Why wouldn't you like them? Freshly baked they are just delicious." But she is surprised by one thing. "We have tried making them without the cross on before, so they were less Easter based, but people didn't want them. They have to have that cross on in order to sell well."
Owner-operator of Stratford New World, Craig Waite, says, while it might seem as though stores bring Easter stock in earlier every year, "we are simply giving our customers what they want". He says people ring up throughout the year asking if they have hot-cross buns in stock, "we have done special orders for them at times as well".
Easter is particularly early this year as well he points out. "So, yes, it does feel as though we have barely just stopped selling Christmas confectionery but we wouldn't be baking the buns daily if they weren't in demand."
Amanda says customers tell her they are the best hot-cross buns they have had. "We have one lady who comes from New Plymouth to get them, she won't buy them anywhere else."
However, customers differ in their favourites. "The fruitless ones are popular with younger children, and the chocolate ones too, but the traditional ones with fruit still sell the best."
As well as selling them in packs of six or eight, the bakery also offers them individually. "This is really popular with customers who may live on their own, as they want a fresh product, not something that will have gone stale by the time they reach the end of the pack."
Freshness is something Amanda prides herself on when it comes to baking the hot-cross buns. "We make them in-store from scratch, and it is a time-consuming process. We don't buy in a mix or have them pre-frozen, we make them up daily."
The time the dough is given to prove is the key part of the process says Amanda. "Obviously we have a special recipe we use, but I think the secret ingredient has to be the fact we don't rush them and we love baking, loving what you are doing means you get a better product at the end."