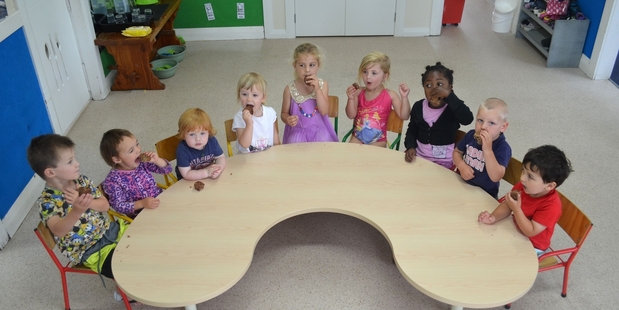 When the Stratford Press wanted to find out which was better, the fruit or the chocolate hot-cross buns from Stratford New World, we decided to call in the experts. So managing editor Ilona Hanne visited the youngsters at Rainbow Stratford ECE armed with plenty of samples kindly provided by Craig Waite at New World.
Each of the willing taste-testers chose between chocolate or fruit, with strong opinions voiced in favour of each.
"I like the fruit best, as it is tasty," though Elizabeth Araba (4) says that doesn't mean she doesn't like chocolate as well, "but fruit is my favourite".
Benjamin Dingle (4) was clear.
Chocolate is the best, I love chocolate in everything.
Alyssa Bretherton (4) was another to vote in favour of chocolate. "The buns are full of chocolate and that is really nice."
In the end, it was a close competition with four votes going to fruit and five to chocolate.
"I would eat both of them any day," said Billie Smith (4) and most of her friends agreed.
So what is best? Chocolate or fruit? Enter our competition on this page, vote for your favourite and you could win your favourite flavour.