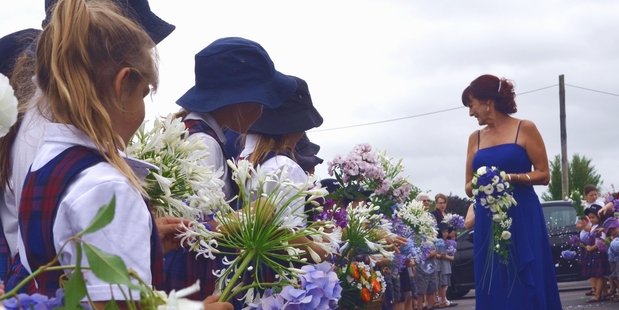 When Rae Sullivan-Brown married Neil Evetts on Friday, they had more than the usual number of flower girls and boys.
Rae arrived at the Church of the Immaculate Conception in Stratford to be greeted by a guard of honour formed by the junior students of St Joseph's School.
The children had been waiting patiently, clutching handfuls of flowers to honour their former principal as she arrived at her wedding.
Inside the church, senior students from the school filled the pews to lend their voices to the singing during the service.
Rae was principal at St Joseph's School for nearly 16 years before moving on to teach mathematics at Francis Douglas Memorial College early in 2015. Rae has had a long relationship with St Joseph's, having started her own education journey there as a new entrant.
Before the bride arrived, the children were excited and enjoying guessing what she might wear.
"She will look like a princess probably," said Charlotte Evans as she and her friends waited.
When Rae did arrive she didn't disappoint.
"She is like a princess or a movie star maybe," said Charlotte.