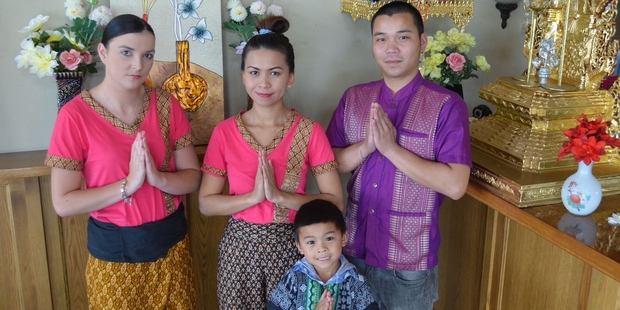 Monz and Rose Middlemiss are serving a taste of their homeland to diners at their new restaurant, Mountain Thai.
The young couple are new to Stratford, having grown up in Auckland and Thames, and say they are loving their new hometown.
"Everyone has been very friendly. It is a good town to start our business in," says Rose.
While Mountain Thai is the couple's first restaurant together, they have worked in the trade for a long time.
"My sister has a Thai restaurant in Thames where we have worked," says Monz, adding that Rosie's uncle and mother both own restaurants in Whangamata and Auckland respectively.
Monz says he and Rose had just decided it was time to open their own restaurant when they heard Anne's Thai was for sale in Stratford.
"We came down and had a look and decided it was the ideal business for us to buy. The kitchen and restaurant were nicely set up and we liked what we saw of the town on that first visit."
Once they bought the business they moved to Stratford with their son Laven, 6.
"He is loving living here and is excited to be starting at Stratford Primary this term," says Rose.
Wanting to put their own stamp on the business, the first thing to change was the name.
"We love the mountain here and wanted to reflect the local area in our name," says Monz.
A new menu was the next order of business, with Monz saying the food they are serving is "the same food we eat ourselves".
Both Monz and Rose were born in Thailand and spent their early years there before their families moved to New Zealand.
"We visit Thailand often. It is our home, but so is New Zealand," says Rose, addings she loves both countries and cultures.
"I could not choose one. I love being able to mix the two."
Monz says ensuring their food is as authentic as possible means they make frequent trips to Auckland to source specific ingredients.
"We have a supplier there who gets certain herbs straight from Thailand for us so our dishes taste just as they would have when our grandparents cooked for us."
Rose, who works front of house at the restaurant, says she is enjoying introducing customers to the new menu. "All the food is cooked by Monz, and I know he is a great chef, so I can recommend everything with confidence."
For Monz, being able to give Stratford diners an authentic taste of Thailand is something he is enthusiastic about.
"We love the freshness, the flavours and the variety of Thai food."
Mountain Thai opens daily for lunch, 11am-2.30pm, 5pm until late. The restaurant is licensed for BYO currently. Find them on the corner of Broadway and Regan Street.