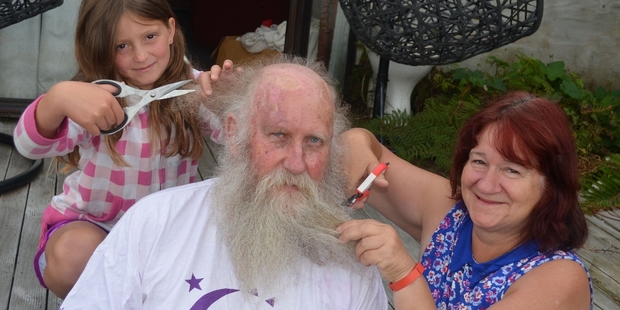 Murray Heal knows a bit about the impact cancer can have.
In fact, he knows quite a lot.
"Murray will never actually be cancer-free," says his wife Sandra, explaining that for them, living with cancer is something they have to do.
Nearly 25 years ago Murray had a heart transplant, requiring him to take more than 20 assorted tablets a day since then to stay healthy. One side effect of this medication regime is the constant accelerated growth of cancer cells in his body.
"We all have cancer cells," says Murray, "it's just that mine grow fast and furious."
Murray has had cancerous tumours and melanomas removed from behind his eye, on top of his scalp, his arm, all sorts of places over the last quarter century in a fight that has no end.
Every surgery requires time off work, travel, painful procedures and disruption to his family life.
"We have been well supported by the Taranaki Cancer Society through the years, so Relay for Life is something that is very dear to Sandra and me."
For the last three years, he and Sandra have participated in Taranaki Relay for Life in a team with friends. They call themselves 'The Walkie Talkies' and relish the opportunity to raise money for what Sandra calls "not just a good cause, the best cause".
This year they are hoping to raise even more money, and Murray is sacrificing his beard and hair to do so. "Originally I thought I would say I would shave it all off if we reached a certain amount, but somehow I have ended up saying I will do it regardless, so now I am just hoping lots of people donate so I can feel it was worth it!"
Sandra isn't sure what she thinks about the plan.
"I am proud of him for doing it, but I am certainly going to get a bit emotional. I have never seen him without his beard. He has had it for more than 30 years!"
Murray's beard won't be gone for good however.
"I have to grow it back by December as I play Santa at Kohatu resthome then!"
Granddaughter Alix Rudd (8) thinks her grandad is pretty awesome for shaving it all off and suspects he will look younger without it.
"It's going to look funny at first though."
To donate to Murray's fundraising effort, the Stratford Press has a collection tin at the front counter. Taranaki Relay For Life takes place this year on the 5th and 6th March 2016. For further details visit www.relayforlife.org.nz