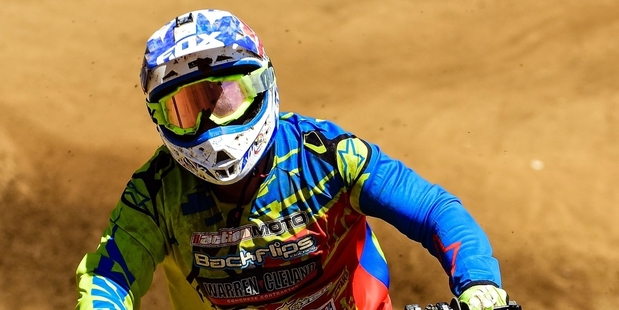 Hard work, dedication and passion has seen 16-year-old motorcross rider Sam Cleland bring home the title of Junior King Of The Mountain at the Taranaki-based competition earlier this month.
Sam first caught the attention of the Stratford Press in 2013 when he placed third in the competition as a 14 year old, and in two years Sam says he has learnt a lot and perfected his style of racing.
The Francis Douglas student regularly trains on his race track at home or at other tracks owned by local riders.
"Fitness is one of the most important factors to racing, I have to train every day to ensure I am in the best possible shape to compete."
This year he will not be a boarding student, so that he can keep up his training everyday.
"As well as training it is important to keep up proper maintenance on your bike so nothing goes wrong on race day."
Heading into the competition at Barrett Road in New Plymouth, Sam says he wasn't overly confident about his chances of winning.
"There are a lot great riders around, and King Of The Mountain draws in riders from all around the country." This included nationally ranked MX1 rider Cody Cooper from Mt Maunganui, crowned with the overall King Of The Mountain title.
Sam says he was stoked to hear the final results, and the celebrations continued as he also placed third overall in the Junior 250CC section as well as second in the MX3 section.
It is a great feeling when your hard work has paid off.
Sam says while the win is still fresh in his mind he is looking forward to upcoming events such as the Summer Series and the Junior National Championships later this year.
"You can't beat the feeling when you are flying through the air," says Sam. He encourages other young people to get involved in motorcross.
"Travelling around for events gives you the opportunity to meet heaps of people and make friends all over the country."
Sam is grateful to his sponsors, Backflips Clothing, Action Moto, Crown and Kiwi and Groundworkx, for their on-going support.
"I am looking forward to a big year of racing and hopefully a few more titles."