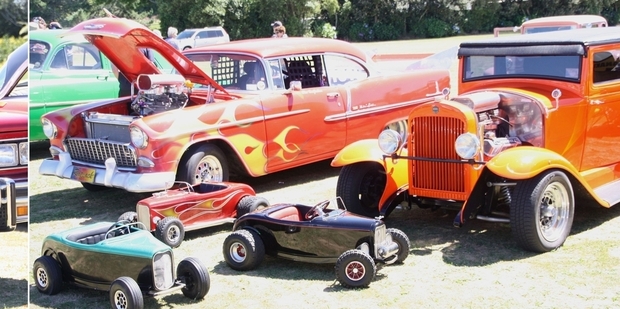 Almost 200 cars will fill the grounds of Inglewood High School this weekend for the 21st annual Inglewood Rotary Club Charity Car Show.
With proceeds from the show going to the Taranaki Cancer Society, the car show promises a fun day out for the whole family, says organiser Jim Shepherd. Last year there were 180 vehicles of all shapes, sizes and vintages, with makes from the early 1900s to the latest models.
A highlight of this years show will be a V8 Supercar Simulator, which allows spectators the opportunity to see how fast they could race around Bathurst. Jim says the simulator will be enjoyable for car enthusiasts of all ages, and has been sponsored by Walsh Auto and Custom Street Rides.
While the countdown has begun to the annual event Jim says there are still plenty of opportunities for exhibitors to get involved.
" We do not charge exhibitors to display their pride and joy, so if you have an interesting vehicle, bring it along and join in the fun."
The Inglewood Rotary Club Charity Car Show is on Sunday, February 7 from 11am - 3pm.
Admission for adults is $7, $1 for children and family passes are available for $12.
For more information on the Inglewood Rotary Club Charity Car Show or to find out how you can get involved contact Jim Shepherd (06) 756 7761 or email jimshep@xtra.co.nz.