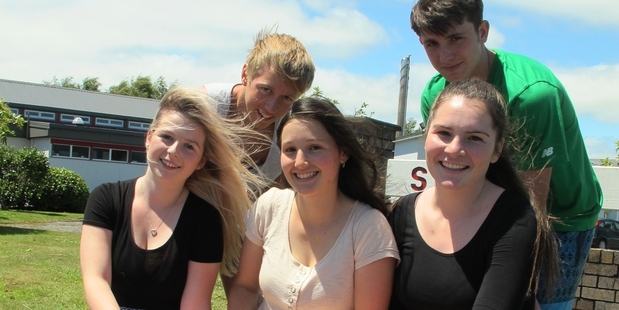 NCEA results are in and students across the district are breathing a big sigh of relief.
St Mary's Diocesan School principal Fiona Green says she is delighted with the students' results.
"Our girls and their dedicated teachers worked exceptionally hard and have gained the rewards."
Fiona says she is particularly delighted with the level two results, saying they achieved a 100 per cent pass rate this year.
"Many girls had achieved NCEA prior to sitting their examinations but have also enjoyed wonderful success in external examinations."
Stratford High School students also have a lot to celebrate.
Year 13 student Renee Vincent says she was pleased with her exam results.
"I was nervous going into the exam. My results are a bit of a surprise".
Jonathan Linders agrees that he too was pleasantly surprised when the results were posted last week.
"To prepare for the exams I wrote all my study notes in bright colours on my bedroom windows. It definitely paid off."
Bailey Gavin says she found NCEA level two a big step up from level one, and was glad she had begun her study preparation early.
"I like to practise by completing previous exam papers and attending study sessions with my teachers."
Philip Keenan, principal of Stratford High School, is also delighted with the results of his students.
Philip says the level one students in particular received high results.
"It is wonderful to see the level one students start on a high. It is a result of well-prepared students."
For those heading off to tertiary study, the exam results were the final step to the university of their choice. St Mary's Diocesan School student Alyx Devlin not only achieved NCEA level three with a merit endorsement but gained University Entrance to Victoria University
"These results are a wonderful way to finish my high school experience. I am very happy and looking forward to my first year at university."
More than 170,000 students nationwide completed NCEA external examinations at the end of last year. NCEA results were posted online last Wednesday and answer booklets will be returned to students from late January. Scholarship results will be available from February 9.