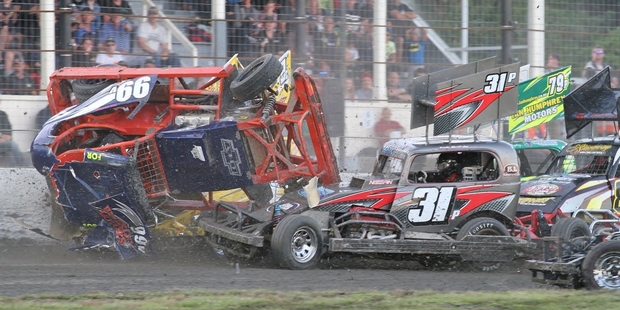 While it was Nelson-based driver, Shane Harwood who claimed the actual title, Stratford was the clear winner at the Waste Management NZ Superstock Championship 2016 held at the Stratford Speedway last weekend.
While torrential rain postponed Friday night's racing, the crowd numbers were still fantastic over the weekend, says Melissa Laing, secretary of the Taranaki Stock Car Club.
Melissa says the A&P showgrounds were very close to capacity of 7000 on Saturday night, with around 90 per cent of that number turning up on Sunday to watch the finals. They always knew Saturday was going to be the busiest event as some travellers were only able to make that day.
"Also a lot of people were hoping to see speedway on Saturday and then UB40 in New Plymouth on Sunday so they had to make a choice."
Exact gate figures are not yet available, but with presales totalling nearly 5000 individual tickets, Melissa says it was clearly a very popular event.
Stratford last hosted the NZ Superstock Championship back in the 2002/03 season, and Melissa says it is a hard event to get the rights to.
Superstocks are a very popular class and have high numbers of well-known drivers who spend a lot of time, money and energy on their cars and public profiles, so this is always the most sought after individual title in a speedway season.
As Shane Harwood raced to victory in the finals, spectators were enjoying the sunshine and fantastic atmosphere in the stands. For some, it was their first time experiencing speedway in New Zealand.
For speedway fans Hank and Laura Gosling from Illinois in the USA, the Stratford Speedway track was a long way from their home track the LaSalle Speedway but they still felt they were among friends. "It's so friendly here. Everyone we have spoken to has been really nice to us, and we have loved being able to talk to the drivers and their crews."
The couple, along with their two children, were in New Zealand on a month-long holiday, when they heard about the Waste Management NZ Superstock Championship 2016.
We all love speedway so thought we would come along and see what New Zealand speedway was like. We sure haven't been disappointed!
Adding Stratford to their itinerary wasn't too tricky says Laura.
"We decided we would rather see this than a museum in another town, and I think the kids are happy with our decision. We have had a great three days here.
"We wouldn't have known about Stratford if it wasn't for the Superstocks and that would have been our loss for sure."
Results: Waste Management NZ Superstock Championship 2016:
Winner - Shane Harwood
2nd - Jason long
3rd - Graeme Barr.
King of the Mountain Champs:
Winner - Richard Gaskin
2nd - Carl Shearer
3rd - Paul Johnson