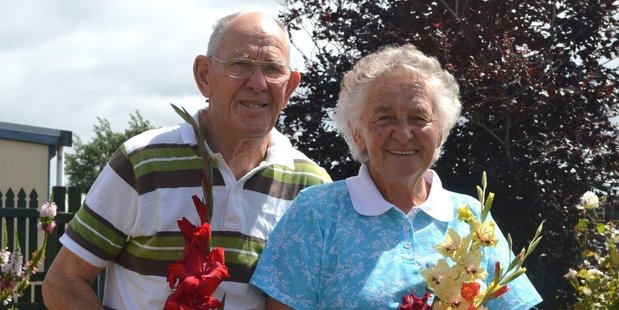 "Spud" Brogden has been digging in dirt for most of his life and his efforts pay off yearly, with beautiful colourful blooms to be seen in his garden in Normanby.
The 81-year-old has been called Spud for just about as long as he can remember. "When I was about three or four, my elder brothers and sisters used to meet their friends to walk to school together and they would see me in the garden digging. They always asked what I was digging for and I would say 'taties'. So they called me tatie for a while and eventually it became Spud."
Since he was nine, the dirt he has been digging has been to grow gladioli.
My father used to grow them, he brought his first cormlets back with him from France after World War I.
From those first plants, Spud's father began a business, for which Spud still has the first seed catalogue he produced in 1934, the year Spud was born.
"He was selling them for thruppence or sixpence each back then."
In 1956 Spud's father, Bill Brogden, set up the North Island West Coast Gladiolus Society, with Harry Hughes. Founding members were Alec Cameron, Milton Smith, Cliff Perrett - and Spud. "Of that group, it's only myself and Milton who are still alive."
This year the group will hold the society's 60th annual gladiolus show, and while the turnout is unlikely to be as big as in the early days - "we used to get nearly 500 blooms at the show back then" - Spud and his wife Joy are hopeful to have a "decent number" of blooms for the public to see.
"There is a chance this might have to be our last show, dwindling numbers of exhibitors makes it harder and harder each year. That said, no decision has been made and if people come along and get interested in growing, then we will be able to keep on going."
Spud and Joy are both passionate fans of the colourful perennial, famed for its tall spikes and bright colours.
I love the range of colours you can get in them, not just the main colour, but the blotches of other colour on the flowers as well.
Having taken over the export part of his father's business in 1960, Spud is one of the country's best known experts on the plant. He, along with Wayne Hughes of Whanganui and David Luty of Hunterville, will be exhibiting at the show later this month.
Anyone can enter, says Spud, "although they do need to call Joy and register so we know to allocate space for them". Entering a bloom is free and there are classes to suit all levels and standards. "In the old days, people used to grow specifically for the shows, now quite a few just grow them for pleasure but still bring blooms along."
Gladioli are a pleasure to grow, says Spud, "if you can grow good veg, you can grow good glads, because they like the same sort of soil, nice and rich". Watch out for too much sunshine he adds. "They like sunshine, but too much can bleach some of the brighter colours, you also need to take extra care in drought conditions and protect them from high winds."
The North Island West Coast Gladiolus Society annual show will take place at the Normanby War Memorial Hall on Sunday, January 31. Public viewing is 12.30-4.30pm, admission $3. To find out more, or to register your entry, call Joy on 06 272 8282.