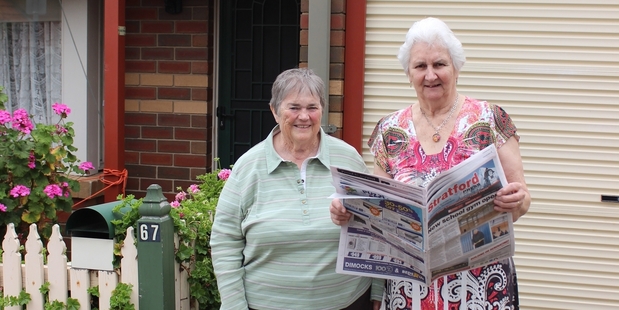 68 years ago, nine-year-old Dorothy Taylor put pen to paper and wrote a letter to be sent to a potential penpal in Australia through a school-based programme.
She received a reply from a Joan Wilmot. The young writers hit it off and so began a friendship that has lasted nearly 70 years.
"She's had a great life," says Dorothy of her Australian friend.
We've told each other all sorts of things through the years.
"We sent each other photos too. We were both debutantes, so we shared photos of that, wedding photos, the children when they were born. I have kept all the letters she wrote through the years too."
With each letter or photo came stories of a life lived somewhere else. From Dorothy's marriage and the birth of her children, to Joan taking up a job in Papua New Guinea, the penpals have shared much of their lives with each other, despite never having met.
That changed late last year when Dorothy and a friend, Heidi Beckers, flew to Australia to meet Joan for the first time.
"When I told her we were coming over she insisted we stay with her," says Dorothy. "We just hit it off straight away. We already knew all about each other's lives."

It was just like seeing an old friend again.
While the penpals have talked over the phone as well during the years, it is the letters that have been the basis of the strong friendship.
"There is nothing nicer than getting a handwritten letter in the mail," says Dorothy.
"She is a lovely person; she was so welcoming. She has a beautiful home in Melbourne and we were able to share so many memories with each other, looking at photos of all the events we had told each other about over the years."
Now back home in Stratford, Dorothy is once again sending letters to her good friend and confidant Joan. "Although now I can picture her so much clearer. I can hear her voice reading the words out loud when I receive a letter from her. It's a really special friendship."