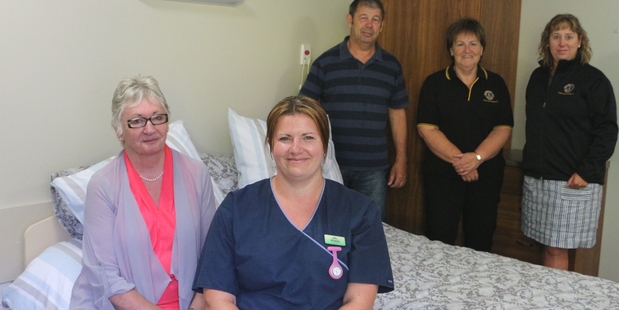 "Thank you, thank you, thank you. It is like all our Christmasses have come again."
Maryann Residential Care Home and Hospital nurse manager Peg Leathley says staff were thrilled when a new palliative care bed arrived last week. The queen size bed was donated by the Toko Lions.
With the bed being queen sized, rather than single, it means patients receiving palliative care can have their spouse / partner stay with them, "which makes it as close to being at home as possible," says Peg.
Toko Lions president Kim Watson says projects like this aren't just thanks to club members.
"It's everyone around, the families and friends, people who buy raffle tickets, support the fundraising however they can."
Clinical co-ordinator at Maryann, Michelle Parrett says all the nurses have really appreciated the hoist which was donated by the Toko Lions in November.
"It makes such a difference to our days."
She says the bed is another example of how much impact a donation can have on so many people.
"It isn't just the families who use this room, but for the nurses, knowing we have somewhere for patients and their families, being able to offer this service, it makes a real difference."
Agecare Central chief executive Neil Volzke says Stratford definitely has the need for this type of palliative care.
"We have a hospice nurse in the town caring for people in our community, and this adds to what can be offered to patients," he says.
He says the location of the bed, which is in an ensuite room close to the whanau room and a kitchenette, means families can be close to their loved ones in comfort and relative privacy.
Director of the health and welfare committee for the Toko Lions, Pam MacDonald, says "if you come to the Toko Lions with an idea, we will get straight on to it, and that is what happened with this project".
Neil adds that there is "certainly a good strong community in Toko," and that the community certainly benefits from groups like the Lions.