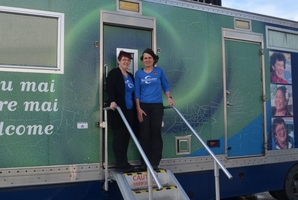 Stratford women are being urged to take advantage of the BreastScreen Aotearoa Mobile Service that is parked in town until October 10.
The caravan, which comes to town once every two years, offers free breast screening for women aged between 45 and 69.
Heather Dunbar, an administration assistant for BreastScreen Aotearoa, says some women "can be very nervous which is understandable"; however, the process is quick, pain-free and an essential part of helping women to stay healthy.
Heather says people are becoming more aware of breast cancer, and "therefore more willing to participate in the screening programme".
Saying that "this old girl has done her dash", Heather adds that the service will have a new bus later this year, so when the team next visits Stratford in 2015, it will be in a different vehicle.
All of the staff working in the mobile unit come from the Palmerston North office, and are rostered on a week at a time to work in the town being visited.
"It is good to come and live amongst the community," says Heather. "We can gain a better understanding of our clients' lives."
BreastScreen Aotearoa says that having a mammogram every two years improves a woman's chances of surviving breast cancer.
Mammograms can detect about 75 per cent of unsuspected cancers in women under 50. If you are a woman aged between 45 and 69 and would like a mammogram through the BreastScreen programme, call 0800 270 200.