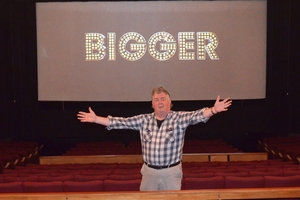 Barry Milner, manager of the TET Kings Theatre, says the new digital projector at the movie theatre means Stratford movie-goers will now be able to enjoy some of the latest and greatest blockbusters in their own town at the same time as they are being shown elsewhere.
"Kids and teens, they want the stuff new, they don't want to wait a month or so for it to come to Stratford," he says, adding he is planning midnight premieres of some of the blockbuster movies due over the next 12 months such as The Hunger Games: Catching Fire and The Hobbit: The Desolation of Smaug.
The digital projector was funded through Southern Trust, Pub Charity and the TET. Barry adds that "the Kings Emporium also has paid its way with book sales," referring to the shop run as part of the theatre's ongoing fundraising efforts.
While the projector means newer movies can be shown, in digital clarity, Barry points out that he won't be throwing the 35mm projectors out.
"They are part of our history, plus we will still use them for some films, when school groups or history groups come in.
"We won't be getting every new release in," he says, "we will still be showing the art house films and the classics as well." However having the digital projector means the theatre can also compete with movie theatres in bigger towns. "We will be showing the new release, Planes, on it's New Zealand release date," he continues, "which means parents can take their children to see a brand new film, in digital quality, without having to leave town".