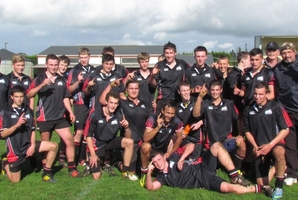 The Central Rugby Club had a stellar year with its four teams reaching the semifinals.
Three went on to play the finals and two won Taranaki secondary schools titles.
Taranaki champions are the under 63kg team and the premier A side, the first XV.
Prizegiving was September 8 at the TET Multi Sports Centre.
Results: Under 15, under 63kg: Most improved: Jake Vincent. Best player: Dylan Trott. Best team man: Bayly Paterson.
Under 15: Most improved: Jed Hinton. Best player: Fergus Smith. Best team man: Shaun Rowe. Second XV: Most improved: Will Rohe. Best player: Cameron Cox. Best team man: Cody Ussher.
First XV: Most improved: Nathan Heine. Best player: Dayle Bailey. Best team man: Cole Baker.