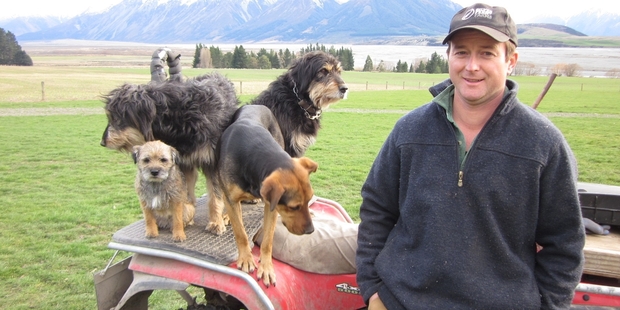 In the quiet expanse of the Rakaia Gorge high country, the shearing shed at Glenaan Station has been a hive of activity.
As working dogs laze outside the property's new shed, station owner Paul Ensor is inside watching over a Pleasant Point shearing gang of four shearers and one presser, a wool classer from Amberley and distant relation Georgina Ensor, who is scanning electronic identification tags on the sheep. At the end of last week, the workers were shearing the last of 2650 merino ewes on the 1035ha station and planned to be finished by 11am after going hard out from 7.30am to 5.30pm for three days straight.
Ensor's days began at 6am as he and his family got up early to feed the shearers staying on the property, located near the end of a shingle road, more than 30km from the Highway 72 turn-off. Ensor is helped on the farm by his father, Hamish, and his Mum, Belinda, helps with cooking. He lives on the property with his wife, Prue, and their children, Juliet, 3, and Guy, 1.
He says shearing has been going well, with a run of good weather.
"We are ahead of schedule and have managed to run right through without having any weather interruptions," Ensor says.
Nevertheless, he is looking forward to the shearing being over and it being "nice and quiet and back to normal". He is positive about the future of merino farming and thinks it has been a promising introduction of marketing merino meat in the past 18 months.
The farm has a contract through the New Zealand Merino Company to supply meat to 100 restaurants throughout New Zealand. It also has a contract through the merino company with Japanese Company Nikke, which uses the wool in merino clothing, including school uniforms and suits.
New technology is helping Ensor in the task of shearing, which has been undertaken by generations before him on the property. Each sheep tag is scanned as the sheep comes on to the shearing platform and a barcode sticker is printed out, which is put on the platform next to the sheep.
When the sheep is shorn and its fleece weighed and processed the tag is scanned in, so the quality and quantity of the fleece can be tracked back to the sheep, and those producing the best fleece can be favoured for further breeding.