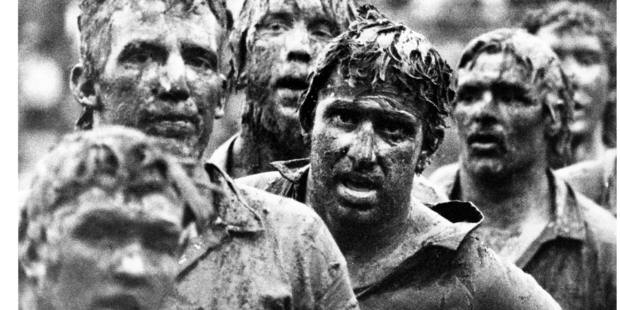 The Percy Thomson Gallery is hosting an exhibition of some iconic images, those of Peter Bush, the acclaimed New Zealand photojournalist, who spent six decades capturing the All Blacks in action.
This is the last chance to see the images before the show's final whistle. With more than 100 photographs spanning the 60 years Bush spent immortalising some of the greatest moments in New Zealand rugby, the exhibition has received rave reviews as it has toured around New Zealand.
Percy Thomson Gallery director Sue Morton says, "It is a privilege to have the show in Stratford. Peter is a national treasure, and his images depict the golden years of the national game. 'Hard on the Heels' is a goldmine of memories and great moments. Being in a strong rugby district the exhibition is sure to strike an accord with Taranaki public."
The exhibition's title is a reference to Bush's early days photographing the rugby legends. According to Bush, photographing the All Blacks was "a total workout". In the early days, he often donned football boots and chased the players from the sidelines to get the crucial shot.
Bush started working on the sidelines as a young cadet for the New Zealand Herald in 1949, at a game between the All Blacks and the Wallabies. Since then, he has photographed hundreds of matches at home and overseas.
The show, sponsored by Canon New Zealand, will be opened on Friday, August 30 at 7.30pm by Sir Colin Meads, with Bush also in attendance. Bush will be participating in a question and answer session on Sunday, September 1. Images will also be for sale.
Bush's photographs range from the controversial to humorous behind-the-scenes moments and feature All Blacks from Sir Brian Lahore, Bob Scott and Sir Wilson Whineray, to Ian Kirkpatrick, Colin Meads, Graham Mourie and Jonah Lomu, along with star players from other rugby nations.
The exhibition includes a set of mural-sized works and a DVD in which Bush recounts the stories behind his images.
Bush's work has appeared in countless publications and he has published three books. His biography Peter Bush: A Life in Focus was published last year.
Also opening and running concurrently will be "Top of the Shots", a selection of images from Puke Ariki's highly successful exhibition Photographic Memory: The Swainson/Woods Collection, and some new gems will be touring the region beginning at Percy Thomson Gallery. The district can nominate the photo it thinks is the exhibition's "top shot". The hugely popular kids' activity table and photo cut-outs will also be making the journey.