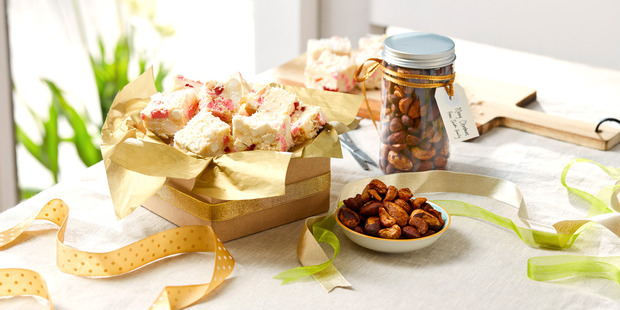 Making your own gifts is a nice way to show friends and family you care. Countdown has put together some delicious recipe ideas to make and share these holidays.
White Chocolate and Raspberry Rocky Road
Makes 48;
Prep time: 15 minutes
Cook time: 2 minutes
Ingredients
200g shortbread biscuits, chopped finely
cup raspberry lollies (e.g. fruit jubes), quartered
60g mini marshmallows
1 cup shredded coconut
625g white eating chocolate, melted
Method
Grease a 20cm x 30cm rectangular pan, line base and sides with baking paper, extending paper 5cm over the sides. Combine biscuits, lollies, marshmallows and cup of the coconut in a large bowl, stir in melted chocolate. Spread mixture into the pan and smooth the surface with the back of a spoon. Sprinkle with remaining coconut. Refrigerate for 2 hours or until firm, before cutting.
Tip: Store in an airtight container in the fridge for up to 1 week.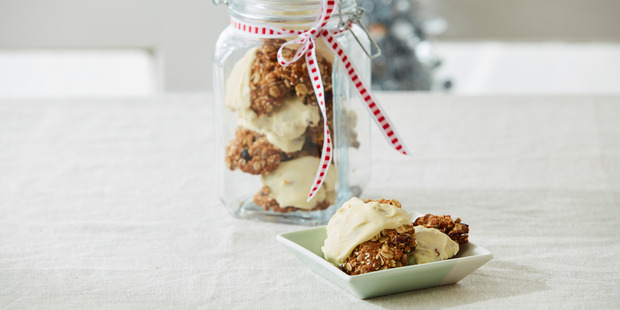 Christmas Oat Biscuits
Makes 14
Prep time: 20 minutes;
Cook time: 20 minutes
Ingredients
100g butter
2 Tbsp golden syrup
cup raw brown sugar
tsp baking soda
2 Tbsp boiling water
cup flour
cup desiccated coconut
cup rolled oats
cup mixed seeds (e.g. sesame, sunflower)
cup dried cranberries
cup white chocolate drops
Method
Preheat the oven to 180C (160C fan-forced). Grease and line 2 baking trays. In a large saucepan, melt butter with the golden syrup and sugar over a low heat. Once the butter has melted, remove from the heat and set aside. Dissolve the baking soda in the boiling water. Add to the saucepan along with the flour, coconut, oats, seeds and cranberries, and stir until thoroughly mixed.
Place tablespoonfuls of the mixture onto a baking tray, allowing enough room between for them to spread. Flatten gently with a fork. Bake for 15 minutes or until golden. Meanwhile, melt chocolate in a microwave-safe bowl on high, for 20 - 30 seconds. Stir, then repeat until melted.
When cool, spread one half of the biscuit with the white chocolate. Store in an airtight container, or use a jar and decorate with a ribbon if using as gifts.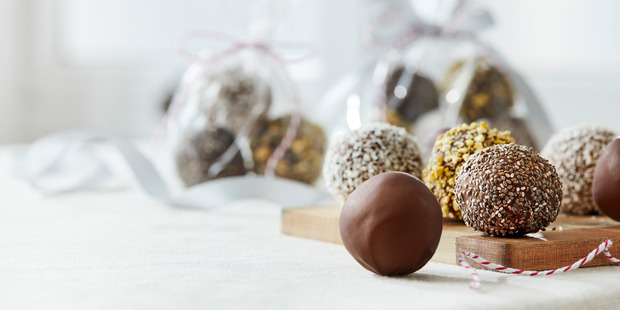 Dark Chocolate Chia Energy Balls
Makes 16
Prep time: 20 minutes
Cook time: 2 minutes
Ingredients
1 cup pitted dates
2 cups boiling water
1 cup ground almonds
2 Tbsp cocoa powder
2 Tbsp coconut oil
2 Tbsp honey
2 Tbsp peanut butter
2 tsp chia seeds
1 tsp vanilla extract
1 cup puffed rice
Coating: 200g dark chocolate; 1 Tbsp coconut oil; Desiccated coconut, finely chopped pistachio nuts or chia seeds, to coat (optional)
Method
Place the dates in a small bowl and cover with boiling water. Set aside for 5-10 minutes. Drain the liquid off and transfer the dates to a food processor. Add the ground almonds, cocoa powder, coconut oil, honey, peanut butter, chia seeds and vanilla extract.
Blitz until smooth, scraping down the sides, until a thick paste forms. Gently stir through the puffed rice. Line a baking tray with baking paper. With wet hands, roll tablespoonfuls of mixture into balls and place on the baking tray.
Refrigerate until firm, about 2-3 hours. To make the coating, place chocolate and coconut oil in a microwave-safe bowl and cook on high for 20-30 seconds. Stir and repeat until completely melted.
Place the coconut, pistachios or chia seeds in separate, shallow dishes. Use a fork or skewer to dip a ball in the chocolate mixture, then roll in your preferred coating. Return to the lined baking tray. Repeat with the remaining balls. Chill for a further 1-2 hours, until the chocolate is set.
Tamari Roasted Nuts
Serves 6
Prep time: 5 minutes
Cook time: 20 minutes
Ingredients
600g mixed nuts e.g. unroasted almonds, macadamias, brazil nuts, cashews, peanuts
3 Tbsp tamari sauce
tsp ground cumin
tsp cayenne pepper
Method
Preheat the oven to 180C (160C fan-forced). Place nuts onto a baking tray. Cook for 5-10 minutes, or until lightly roasted. Transfer nuts to a bowl. Add tamari, cumin and cayenne pepper. Mix to combine. Return the nuts to the baking tray and cook for a further 10 minutes, turning halfway through. Allow to cool completely before placing into jars to use as gifts.