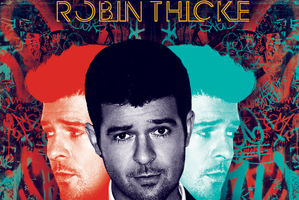 Blurred Lines is an album filled with love, sex, catchy lyrics and disco beats.
In the past, Robin Thicke has proven himself as an artist with an incredible voice who enjoys singing about sex - and his latest album, Blurred Lines, is no different.
Overall, Blurred Lines is an album which features an "old skool" sound and will have listeners singing along in no time.
The album starts off with the popular Blurred Lines single, giving people a taste of what's on offer.
Next is Take It Easy on Me - as soon as you hear it you'll instantly recognise the producer.
Timbaland's influence is undeniable and this is one of the few tracks with a modern feel to it.
Thicke has always had a bit of an "old skool" feel to his music style and disco is a major theme of the 10-track album.
Track three is when you really start to hear it.
My favourite tracks include Give It 2 U - one of the more modern songs and it features Kendrick Lamar ... need I say more? - The Good Life, Ain't No Hat 4 That and Ooo La La.
Blurred Lines is enjoyable.
Even after listening to it three times in a row, I could have gone another.
Robin Thicke
Blurred Lines
Universal Music Group