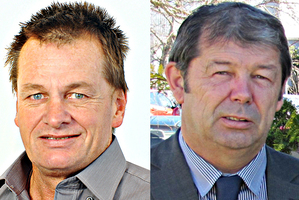 The Stratford Press asked both mayoral candidates to answer six questions that have been submitted by our readers. Their unedited answers to these questions are published here.

1. What would you do to encourage business growth and confidence in the district?

Tony Milham:
Stratford district stands in a service industry district for the surrounding farming community and related industries. We stand in the middle of a Region that brings in a wide variety of tourists seeking outdoor activities and resources that are the envy of other districts. Let's develop our unique area so that those seeking the 'Taranaki experience' have a reason to stop and experience the Stratford district.
There is a major opportunity over the coming years to move with technology, target active tourists and travellers. .Stratford lies perfectly between one of Taranaki biggest employers and the region's city, an ideal district to raise families,
Young families with a lifetime of salaries and wages they are a must for the on-going future survival of our district these people and families bring the opportunity to build and secure business confidence, keep the roles of schools, sports clubs and social clubs healthy.
Neil Volzke:
Stratford's strategic central locality within the region and as a link to Eastern Taranaki, is a key point of difference. We need to highlight this to businesses that look to service the whole region and encourage our own businesses to take advantage of this.
I'd also like to see a zoning review, leading to development area's being available for new business, especially light industrial, processing and manufacturing.
By providing opportunity for development with comparatively cheap land and low rentals, prospective businesses and employers could establish and grow. If we work collaboratively with Venture Taranaki and our business community, there's increased scope for council to facilitate a broad, multi faceted approach to the business friendly environment we need. This happens now, but could be ramped up to make more impact.
Attracting more residents will also help stimulate growth and confidence. Having good quality, affordable housing is essential for this to happen.
2. Do you support a bus service for the district running between Hawera and New Plymouth? Please give your reasons.
Tony Milham:
Depending on the form and service supplied. If the sole purpose of the bus service is to supply transport to health and education services that cannot be supplied here in Stratford then yes.
If however the purpose of the bus service offers retail opportunities out of our district then we need to look at other opportunities of promotion within our district. If the funding is provided it should reflect the size of our district in comparison to other districts that are supplying funding our contribution should be the same per head of population as others supplying funding .
Neil Volzke:
A BERL economic report stated "if the towns in southern and central Taranaki are to survive, a public transport link with the north of the region is critical." The official term "transport disadvantaged" refers to the elderly, those needing access to tertiary education and health services. This bus service is targeted at these groupings. Some workers and the general public will also benefit.
I also note the bus will carry passengers in both directions. WITT currently has 361 students enrolled from Stratford, Eltham and Hawera. If we can assist these people and others to remain living in their home towns while studying at WITT, that will be a very positive outcome for all. The bus includes Base Hospital on its route and the four times a day service will be much more practical and convenient than the existing limited service. It will remain free to those users. I support it.
3. If amalgamation was to happen in our region what benefits do you see as potentially coming from it?
Tony Milham:
I do not and never will support amalgamation of our district into a Super district with in Taranaki; Stratford is a unique independent district in the heart of Taranaki. We have a regional council that we are rated on, along with District tourism boards, sports boards and other community boards to which if we work closely with and alongside can and will provide the exposure our district needs to attract full time residence, business opportunities and a healthy, wealthy community and district.
We have the ability and people here in Stratford who can develop and grow our community to be strong and independent and be the envy of surrounding districts.

Neil Volzke:
There is no political or community desire to amalgamate with our neighbours. I share that view. To date there has been no meaningful, evidence based research done to show any potential benefits.
The Taranaki Chamber of Commerce is promoting the view that there will be financial savings to be made because of the larger scale of an amalgamated council. This has not been the experience elsewhere.
They also see benefits from regulatory consistency, something that will happen anyway, due to government reforms targeting this. What is clear, that if amalgamation did occur, Stratford would become a very small part of a larger region; the risks associated with the loss of representation would be significant, as would our loss of identity.
There are opportunities to offer shared services with our neighbours, as it suits, on case by case basis and I see this as a much better, safer option than amalgamation.
4. What five words would you use to describe Stratford district to a potential visitor?

Tony Milham:
Unique. Community minded. Close. Hearty. Scenic

Neil Volzke:
Friendly, safe, affordable, beautiful and diverse.
Our district is a relaxing place to visit. The landscape is dominated by the beauty and best view of Mt Taranaki. There's plenty of history in the area, beautiful gardens to visit and a range of activities to do, while the centrality makes Stratford a great place to base your stay in Taranaki.
Stratford has official Campervan Friendly status, which is one of the reasons we have increasing visitor numbers.
The new rail cart tourism venture allows an interesting insight into life in the eastern part of the district, a visit to the Pioneer village and a trip up the mountain would be on my "to do" list for visitors.
Many visitors comment on how welcoming and friendly our community is. This is important, as the word of mouth comments really have an effect on other potential visitors, who always like meeting interesting locals.
5. What are your views on the range of activities Stratford District gets involved in and its level of overall expenditure?
Tony Milham:
As a district we have for some time now reduced our spending on community promotion and support, WE can only continue to cut community funding and support for a certain time before our community and district suffers and becomes disjointed.
As a district and council we need to be seen as the leaders in the community leading from the front in district promotions, support and services that will bring stability and growth for the wider community including our rural, business and service industries.
As a council we need to ensure that funding is available to provide sustainable tourism, business, social and community needs. We need to invest internal in activities, services and events that provide opportunities to promote and build business and community confidence.
Neil Volzke:
Largely because of our small size we are constrained to a fairly basic range of activities and I don't believe we should stray too far from the status quo.
We need to keep focussed on these activities and try to do them well and efficiently. It is very easy to be tempted to freely spend other people's money on all sorts of things, but council is not a funding agency and by its very nature should remain risk averse.
Overall I think our expenditure is about right. Obviously, we could always spend more, but that has to be balanced with the challenge of keeping rates down and under control.
The achievement of reducing our council debt to almost zero, will result in a huge savings benefit for future rate payers and help ensure rate increases in the future are manageable, remembering of course, we still need to progress.
6. What are your views on council ownership of non-core assets?

Tony Milham:
Many Councils, invest in non-core assets or ventures, provided that the cost of this is not reflected in any rate charges and that this is done for the future survival of Stratford district then I don't see a problem. However this must be done as an investment that will bring revenue in rather than add to the structure cost for the ratepayers.
This could come in a wide range of different forms and would have to be done on a case by case situation. The council has recently purchased buildings with in the Stratford district to protect areas and control the future of activities within our district.
So long as these do not become a cost burden to our district then I see it as a good sound business move. Investing in community minded and growth building situations should be seen as a future for our district not a burden

Neil Volzke:
Non-core assets are not clearly defined in law, making this whole matter very subjective and likely to change from time to time. Non-core assets are not necessarily bad assets. As a council we rely on the community to identify and tell us what they want.
Naturally, I'm weary of council owning non-core assets, but as long as there remains a valid reason to keep them and the community derives a benefit from these non-core assets, I am generally supportive.
Often, in a small district like Stratford, the council is the only provider of a service or asset, and we don't have the luxury of leaving the provision of some services to commercial businesses or government agencies. In practice, this means, if council doesn't provide it, who does?
Some assets that could fit the non-core description include the holiday park, the information centre, the aerodrome and the council farm.