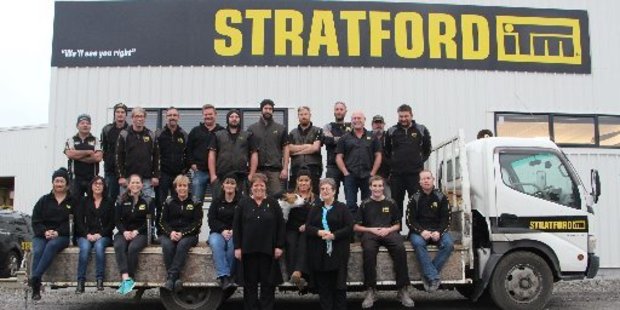 Creating a warm and homely space with happy, hard-working staff has brought recognition to Standard Timber ITM Stratford.
The local business was named Central Taranaki's Best Business at the 2017 TSB Bank Top Shop Awards recently.
Business owner Mike Henry and his wife Kym were proud to be awarded the top spot and also won the Large Format category.
Mike is the third generation in his family to run the business. They employ 24 staff which include truck drivers, yard men, office personnel, workshop builders, retail staff and shed estimators. ITM also contracts five crews of builders to build farm sheds.
Kym says the business, which has run for 84 years, was a big family-orientated place where laughter and practical jokes were encouraged.
"It's important to promote good communication and respect for each other, working as a team between each department to get good outcomes for the client."
Adding to the homely environment is nine-and-half year old English bull terrier Busta Brown who has gone to work since he was a puppy.
"We joke and say he is our CEO."
Kym says she didn't feel like the business needed to win an award to prove anything, as it always went extra mile regardless.
"But its nice to be publicly acknowledged and recognised for the team's efforts."
Kym says the win was a team effort, and she and Mike took the staff out for a celebration dinner last Tuesday night at Colonel Malones.
"We don't pay minimum wage and have a reasonably low staff turnover. It helps to retain experience and product knowledge. We like to promote a happy work environment."
She says many things add to the success of the business, one of which is creating a warm environment. A coffee machine and friendly knowledgeable staff were key and Kym has added her personal touch to the store's design and layout without breaking the ITM branding rules.
"I wanted the building to be homely and welcoming. I wanted to personalise it. "It's the big picture, the feeling you get from walking in the door - how you are treated. A big thing for me is the staff knowledge. If we don't know something we will do our best to find out."
The Warwick Rd business moved to the current site from Broadway North two years ago. The new premises was built from scratch after outgrowing the last site, which Kym says did not have good flow. The new building was designed with customer service in mind and even features service buttons so people do not have to wait to be served.
The new store features covered parking at the front of the shop and a covered drive through area to pick up building materials.
The business has also recently hired two more yard staff to help with the increasing workload.
Kym says moving sites has generated a lot of new customers as they now stock things such as bathroomware. The store also stocks farm supplies, posts, gates, electrical fence products, wet weather gear and an extensive paint range. Staff can assist with room layout and design and provide a free instore and in-home consultation service and quantify and quote materials for any building project.
Kym says running the business was about more than making money, and the business regularly sponsored events and donated to schools.
"We pride ourselves in supporting the local community. Thanks to everyone who nominated and voted for us and to our loyal customers."