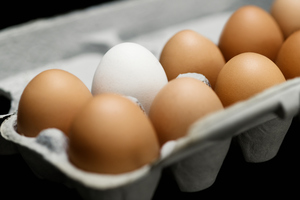 This week is egg week and this column is all about eggs. It's not really egg week - we made that bit up - but because eggs are so versatile in the oily-rag kitchen we thought they deserve to have a whole week of special attention.
We thought we would start with some ways to cook eggs, starting with the really basic: how to boil an egg without it exploding. Exploding eggs is something a he-who-shall-not-be-named oily ragger has had some experience with. The real trick is, having placed the egg into the pot of water and brought it to the boil, not to forget about turning it off. If the pot runs dry the egg really will explode - on to the walls, ceiling, floor.
Those who have mastered the boiled egg could try scrumptious scrambled eggs. Beat 6 eggs in a mixing bowl with a cup of milk, and salt and pepper to taste. Melt butter or margarine in a frying pan over medium heat. Pour the egg mixture into heated butter and cook without stirring until the mixture begins to set on the bottom and around the edges. Using a spatula, lift and fold the partially cooked eggs so the uncooked portion flows underneath. Continue cooking for about four minutes or until the eggs are cooked throughout but still glossy and moist.
Variations include herbed scrambled eggs, cheese and onion scrambled eggs, and mushroom scrambled eggs.
To make an "ooh la la" omelette, beat the eggs and add milk, salt and pepper, then pour into a frying pan. Add finely chopped or precooked vegetables (mushrooms, tomatoes, onion, garlic, grated carrots, and anything else from your garden). Cook for about a minute, then add grated cheese. Cook for another 30 seconds or so then fold the omelette in half and serve. A reader suggests adding a pinch of cornflour to the omelette mix before beating to make big fluffy omelettes.
To make a perfectly poached egg, fill a pan with about 10cm of water, add a teaspoon of vinegar and bring to the boil. Break the egg into a cup or shallow dish then gently slide into the boiling water and cover with a lid. Wait until the water returns to the boil then turn off and let stand for another couple of minutes until the yolk has a white filmy covering. Lift the egg out with a draining spoon. Serve with toast.
K.J. from Wellington has a "no fail" custard recipe. "Put a litre of milk into a pan on the stove. Heat until almost boiling. Meanwhile, in a big mixing bowl, beat one egg, add 2 tablespoons of sugar (more or less to taste) and 1 tablespoon of cornflour. Mix with a little cold milk until smooth and very thin and runny. Pour in about a third of the hot milk, mix together and quickly pour back into the pan. Stir continually until the custard is warm and thick. Vary the amount of cornflour for thickness."
Carol A. from Christchurch says, "I have been buying eggs in a tray instead of by the dozen ... you get lots of specials at the supermarket. I can bake more often and don't buy baked goods so often. I even make my own icecream now."
No egg chef can gain a Michelin Star without knowing how to whip up a tasty pavlova. You need 4 egg whites, 1 cup castor sugar, 1 teaspoon vinegar, 1 teaspoon vanilla essence, and 1 tablespoon cornflour. Preheat oven to 150C. Beat the egg whites until stiff (when peaks like the Southern Alps form). Add the sugar a tablespoon at a time, beating after each. Beat for another 10 minutes then sprinkle the remaining ingredients in and mix. Place the mixture on to a baking paper covered tray (baking paper, not grease proof paper), and shape into a circle about 200mm in diameter. Put the pav into the oven and turn down to 125C. Wait an hour then turn the oven off. Leave it in the oven until cold or overnight (this forms the nice crust). Top your creation with a layer of cream and slices of kiwifruit, or strawberries as an alternative, then dig in.
Do you have a favourite winter tip you would like to share? Send it to us at www.oilyrag.co.nz or write to Living Off the Smell of an Oily Rag, PO Box 984, Whangarei.